All-on-4 Dental Implants - Massapequa Park, NY • Long Island
Replace An Entire Row of Teeth in Just One Appointment
Are you missing most of or an entire row of teeth? Do you have a denture that you just can't trust to stay in place, and it severely limits the types of food you can chew? What if you could replace a whole row of missing teeth with a denture that's guaranteed to look natural, stay secure, and last for years to come? What if you could get it in just one dental appointment? Would you be interested? If the problems touched on above even sound remotely familiar, we're sure you are!
Working with a "dream team" of local specialists, Dr. Allan Mohr can use All-on-4 dental implants in Massapequa to help patients get an implant-retained denture in just one well-planned appointment, helping people rebuild their smiles in record time.
Why Choose Dr. Allan S. Mohr for All-on-4/Teeth-in-a-Day?
How Do All-on-4 Dental Implants Work?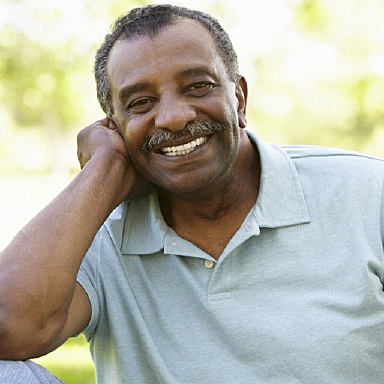 All-on-4 uses just four strategically placed dental implants in order to support a full denture. This is a much faster and cost-effective way to replace a large number of missing teeth versus using an individual implant per tooth. Two implants are located within the front of the jaw where the bone is naturally thicker, and two more are placed at an angle towards the back. They all work together to provide an extremely firm foundation for a denture that simply snaps onto them, giving patients a security a typical removable denture simply can't replicate.
What is the All-on-4 Procedure Like?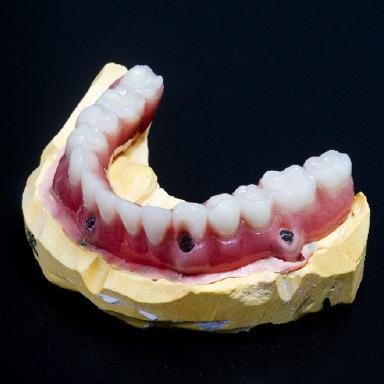 As with any dental procedure, All-on-4 starts with a call to your Long Island implant dentist, Dr. Mohr, for a consultation. At this appointment, he'll take a few X-rays of your jawbone and examine your mouth in order to determine if you are a good candidate for the procedure. If you are, he'll then discuss how your particular treatment process will go.
Typically, it will begin with him taking an impression of your bite so he can begin to design your new denture. He'll also take a variety of scans over the course of a few follow-up appointments in order to determine the best locations for your implant posts. Once this is all ready, he'll refer you to a local oral surgeon or periodontist to place the implants and attach the denture. Dr. Mohr works extremely closely with all of his specialists, so visiting them will feel like just another appointment with Dr. Mohr.
After thoroughly numbing you, your specialist will position the implant posts within your jawbone and immediately load them with your dentures. Afterward, you may experience some soreness and swelling near your implants, but these symptoms should be easily managed with over-the-counter medicine. For the first few weeks, you'll be advised to stick to a soft food diet in order to allow your implants ample time to bond with the surrounding bone. Once enough time has passed, you'll be able to fully enjoy your renewed smile, eating your favorite foods without ever having to worry about your prosthetic.
Incredible Smile Transformations at Smile creations
Dr. Allan Mohr's experience as an implant and cosmetic dentist spans over 30 years. His advanced training, unparalleled credentials, and meticulous eye for detail are what set him apart, and his best patients love him because he truly goes above and beyond in everything he does. If you are looking for the best quality All-on-4/Teeth-in-a-Day dental implants on Long Island, look no further: Dr. Mohr is the dentist for you.
Explore the stunning before and after images below, and when you are ready to have a smile transformation of your own, give us a call. Dr. Mohr accepts complimentary, 1-on-1 dental implant consultations to talk about your options and develop a custom treatment plan. We also are offering a limited-time special: monthly dental implant payment plans, as low as $199/month.
New Smiles in Record Time
Thanks to All-on-4 dental implants, you no longer have to deal with an uncomfortable denture or multiple missing teeth day after day. In just one appointment, you can literally get a completely new row of teeth that will look and feel great for a lifetime. To learn more about All-on-4 and see if it could work for you, give us a call today.
All-on-4 Dental Implant FAQs
The All-on-4 dental implant treatment presents an exciting opportunity for patients who have lost all or most of their teeth. Are you looking forward to rebuilding your smile? Before you commit to All-on-4, you might want to learn more about how it works and what you can expect with it. That is why we have compiled the following list of frequently asked questions. If you don't see the information you were hoping for, or you would like to speak to someone directly about this treatment, you are always welcome to contact us.
Who Is a Candidate for All-on-4 Dental Implants?
Because of the strategic placement of the implants, even some patients who have suffered bone loss in their jaw are candidates for the All-on-4 procedure. As long as you are in fair oral and overall health, there is a good chance that this treatment could work well for you.
How Long Will My All-on-4 Denture Last?
The denture you receive on the same day as your implant placement surgery will be a provisional (temporary) prosthetic. You will use it while your mouth heals and your jaw has a chance to form a strong bond with the implants. Following this period, Dr. Mohr will design and place your permanent All-on-4 set of teeth, which could last for 10 years or longer before it requires replacement.
How Can I Care for My All-on-4 Dentures?
Just like with your natural teeth, you should brush twice a day and be diligent about flossing. Using a mild, low-abrasive toothpaste will reduce the risk that you will accidentally scratch your new teeth. It is also important that you attend regular checkups and cleanings. At these appointments, your dentist or hygienist will remove your denture and thoroughly clean the area around your dental implants.
Should I Choose All-on-4 or Traditional Dental Implants?
All-on-4 has a few advantages over traditional dental implant procedures, including the quickness of the procedure. The chance that you will require a bone graft is also much lower with All-on-4. However, traditional dental implants are a better option for some people. Dr. Mohr will carefully examine your teeth, help you compares the pros and cons of your treatment options, and make a personalized recommendation for how you should rebuild your smile.
From Beginning to End, How Long Does the Process Take?
Between your initial consultation and the time you receive your permanent All-on-4 denture, you can expect at least a few months to pass. Once Dr. Mohr examines your mouth, he'll be able to provide you with a more personalized estimate for your treatment timeline.
Articles about Dental Implants by Dr. Mohr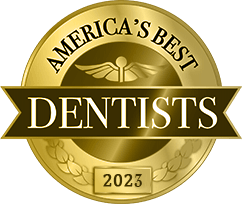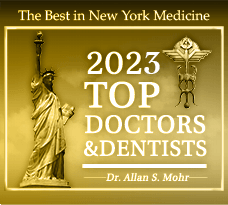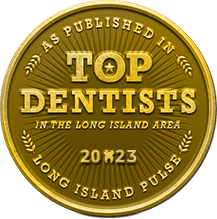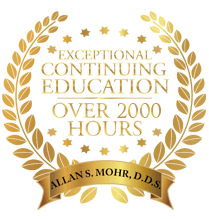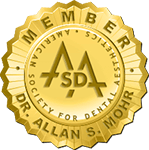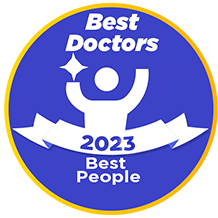 Ask Us

How

We Can Change Your Life