Full-Mouth Reconstruction - Massapequa Park, NY • Long Island
Rebuild Your Smile, Reimagine Your Life... ReInvent You!
When disease, decay, or damage ruin teeth, a patient may feel embarrassed about seeking professional help. Our Massapequa Park dental office is happy to welcome patients with broken-down smiles. We applaud you for taking a step toward reclaiming a strong and healthy look for a healthier life! You'll feel better emotionally and physically when you have a comfortable, beautiful smile to share with the world.
Sometimes a few crowns, fillings, or replacement teeth aren't enough to completely restore dental health. When you visit, Dr. Allan Mohr will evaluate your teeth, gums, and soft tissues, as well as your occlusion (how your teeth fit together when you shut your mouth). We will take X-rays, intra- and extra-oral images, and possibly a Panorex image to provide us with detailed information to create your full-mouth reconstruction plan.
We will also talk with you about your concerns. Do you have pain? Does dental work make you nervous? What do you want to achieve from your dental work? Dr. Mohr will address your concerns and present a plan to restore your optimal oral health. We will explain our suggestions, your options, and the time and financial commitment involved. With creative scheduling and financing, as well as options for anesthesia and sedation, you can enjoy the healthy, comfortable, and beautiful smile you deserve with a full-mouth reconstruction from our Massapequa Park dental team.
Why Choose Dr. Allan S. Mohr for Full-Mouth Reconstruction?
What procedures can be included in a full-mouth reconstruction?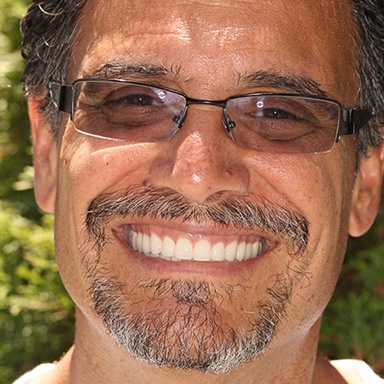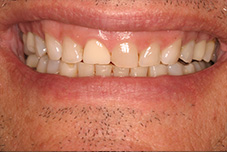 For patients with extensive damage, a full-mouth reconstruction can be a miraculous experience. You've probably become used to having an unattractive smile, but your confidence has likely suffered, and your mouth will not be as healthy or functional if you're missing teeth or have oral discomfort. Half-smile makeover and half-oral health treatment, a full-mouth reconstruction has the power to give you something you may have thought was lost forever: a full, healthy, and attractive smile.
As patients age, teeth are affected by wear and tear. Most people will need some level of restorative dental care at some point, and choosing the right dentist for your full-mouth reconstruction is key. Dr. Mohr has more than your basic dental education. In the years since he completed dental school, he's continued his education at the prestigious Pankey Institute and Dawson Academy, and he lectures on various cosmetic and restorative dentistry treatments.
Transformational Full-Mouth Reconstructions by Dr. Mohr
It can be somewhat hard to imagine how dramatically a full-mouth reconstruction can improve a person's overall appearance, but with our Smile Gallery, our results can speak for themselves. The results can be truly life changing, which is why we have numerous stories of patients actually hugging every member of our team after seeing their new smile in the mirror for the first time.
Makeover Your Smile with Long Island's Premier Cosmetic Dentist
Contact us to make an appointment with Dr. Mohr. You'll be so happy you finally took this positive step for your smile. Our office is convenient for patients from Massapequa Park, Massapequa, Seaford, Wantagh, Lindenhurst, Long Island, and Farmingdale.
Full-Mouth Reconstruction FAQs
Full-mouth reconstruction can be a life-changing experience. Before you schedule your consultation with Dr. Mohr, however, you might like to learn more about the road ahead of you. That is why we have compiled the following brief list of frequently asked questions regarding full-mouth reconstruction. If you don't see the information you were hoping for, give us a call. Our team will be happy to assist you.
How Long Does Full-Mouth Reconstruction Take?
You can expect to visit our office for multiple appointments over the course of several weeks, or perhaps even several months if you receive dental implants. Your treatment timeline will depend on your unique mouth and the specific procedures that you undergo. During your consultation, Dr. Mohr will be able to give you an estimate for how long you can expect your journey to a renewed smile to take.
How Much Does Full-Mouth Reconstruction Cost?
The cost will depend on which procedures you undergo and the extent of those procedures. Our team will explain price estimates to you and help you explore your payment options. Although full-mouth reconstruction presents a significant upfront cost, it brings benefits that make it a truly worthwhile investment.
Will People Be Able to Tell That I've Had Some Work Done?
Dr. Mohr is a dental artist. He designs restorations in a way that ensures their size, shape, and color is the ideal complement for your mouth and facial characteristics — no one should be able to tell that you have had some work done. Of course, Dr. Mohr doesn't expect you to commit to anything before you know what your final results may look like. He uses advanced smile design software to give you a preview of how you will look once you finish your course of treatment.
Is Full-Mouth Reconstruction Painful?
You can expect to feel little to nothing during your procedures; anesthesia, sedation, and Dr. Mohr's expert touch all contribute to a comfortable experience. Some soreness after major dental procedures, such as implant surgery, is normal. Following postoperative instructions will make your recovery as smooth as possible.
Will My New Smile Require Any Special Care?
You can protect the results of your full-mouth reconstruction by sticking to excellent oral care habits — the same habits that are good for natural teeth. You should have a thorough oral hygiene routine, visit a dentist for routine checkups and cleanings twice a year, and avoid risky activities that might cause physical trauma to your mouth. If you have any questions about which products you should use to care for your restorations, don't hesitate to ask us for advice.
Articles about Full-Mouth Reconstruction by Dr. Mohr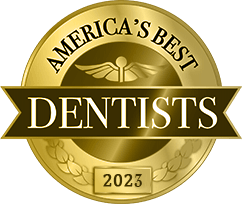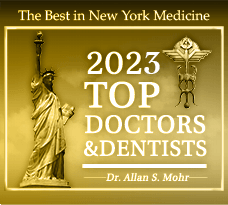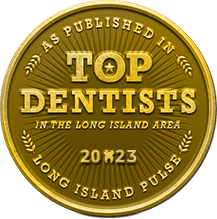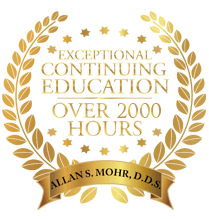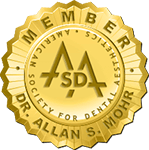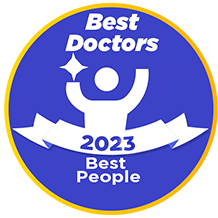 Ask Us

How

We Can Change Your Life