All-Porcelain Dental Crowns - Massapequa Park, NY • Long Island
Where Beautiful Aesthetics Meets Immaculate function
With all of the modern advances in dental materials and methods, there's no reason why patients shouldn't have highly esthetic crowns that are durable and long-lasting. Dr. Allan Mohr is pleased to offer the latest in crown technology to his Massapequa Park patients, including all-porcelain crowns that preserve, protect, and enhance the beauty of teeth.
You may have heard a crown referred to as a cap because it fits over a tooth similarly to a baseball cap on a head. A porcelain crown can repair a broken, cracked, or decayed tooth, as well as a tooth that's been treated with root canal therapy. In the past, crowns were created from dark metals, which detracted from the esthetics of the smile. Now, we have strong, durable porcelains capable of withstanding tremendous biting forces. Dr. Mohr often places all-porcelain crowns, especially on the teeth that show when a patient smiles.
Why Choose Dr. Allan S. Mohr for All-Porcelain Crowns?
Preserve, Protect & Enhance Beauty of Teeth
Natural-Colored Porcelain Blends Seamlessly into Your Smile
Repair a Compromised Tooth Before an Extraction & Implant is Needed
When do you need a porcelain crown? We might fit you for a crown if: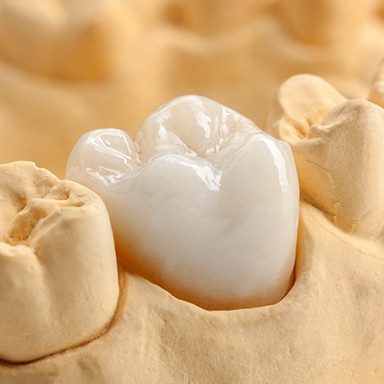 You have a tooth that's been weakened by decay or disease
You want to replace an old metal crown for aesthetic reasons
We want to anchor a dental bridge in place or restore a dental implant
You need to improve the look of stained or damaged back teeth
The Porcelain Crown Process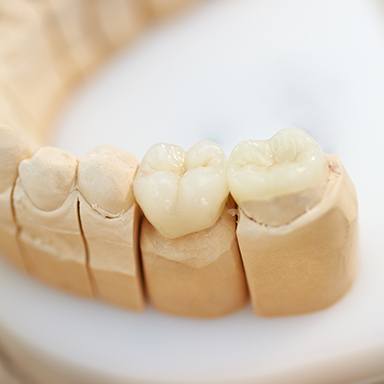 The process of fitting and placing your porcelain crown will require at least two visits. Dr. Mohr will conservatively shape the tooth to allow room for the restoration. He then takes impressions and photographs and sends them to our laboratory. The laboratory uses precise color-matching techniques to create a porcelain crown that blends seamlessly with the neighboring teeth. Dr. Mohr then bonds the crown during a second visit, and you'll leave our Massapequa Park office with a beautifully restored smile!
Transformational Porcelain Crown Before & Afters by Dr. Mohr
Porcelain crowns can create some truly amazing results, but you don't have to take our word for it thanks to the gallery below. There, you'll see just some of the gorgeous smiles Dr. Mohr has been able to give our patients. You'll be shocked at the difference they can make!
Articles about All-Porcelain Crowns by Dr. Mohr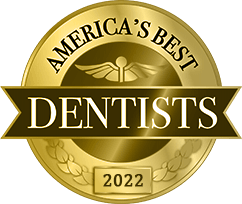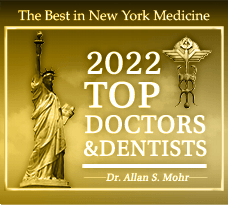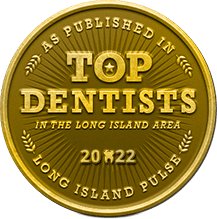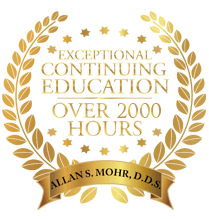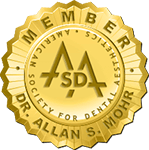 Ask Us

How

We Can Change Your Life