Videos & Press
We Raised Over $10,000 with Spin for Smiles!
Helping Operation Smile Reverse Facial Deformaties in Children
Over the past 34 years I have been fortunate to create many beautiful smiles for my patients, which has changed their lives forever. From raising their self-esteem, career enhancement, to even marriage. But there are less fortunate children who are born with oral facial defects that not only prevents them from proper nourishment, but also leads to being rejected socially.
I created my Spin for Smiles Fund to raise money for Operation Smile – a global medical nonprofit organization that provides free surgeries for children around the world born with cleft lip, cleft palate and other facial deformities.
Every three minutes a child is born with a cleft lip or cleft palate – and many families can't afford the surgery they desperately need. In many places, children with cleft conditions are abandoned or abused. Many times, they have trouble eating and drinking and can struggle to survive. Those that do can face a lifetime of shame and torment.
They needed our help, and our team — in addition to patients, business partners and kind friends and neighbors — donated to help bring hope and new smiles to children suffering from facial deformities.
We raised over $10,000 — helping Operation Smile provide life-changing surgery and renewed hope for 41 children around the world.
Dr. Mohr Inducted Into Prestigious Organization: The American Society for Dental Aesthetics
The Staff of Smilecreations4U wishes to congratulate Dr. Allan Mohr, as he was recently inducted for membership to the American Society of Dental Aesthetics at the national meeting in Florida on October 27, 2016. Dr. Mohr is now 1 of 6 dentists on all of Long Island who is now a member of this prestigious organization. He had to submit a variety of his actual cases for review by the Executive Membership Committee to be selected to this prestigious organization.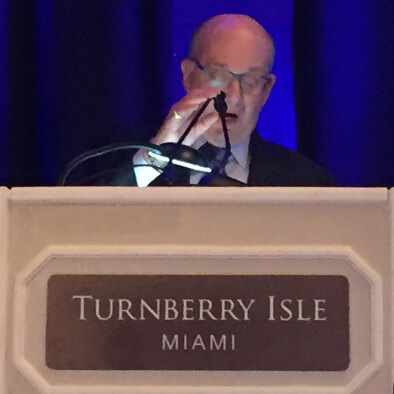 Founded in 1976 by the "Father of Aesthetic Dentistry" and current president, Dr. Irwin Smigel, the ASDA is proud to be the first national society for cosmetic dentists that was established in the U.S. some 40 years ago. The American Society for Dental Aesthetics (ASDA) is made up of members who share a lifelong commitment to learning and providing exceptional aesthetic and restorative dental care. Since that time, they have sought to constantly improve the field of dentistry through the exchange of information on the best practices, including innovative techniques and technologies, and other topics that are crucial to providing outstanding patient care and long lasting aesthetic smiles.
Dr. Mohr, together with other nationally known cosmetic dentists, who are committed to excellence, will continue his knowledge in the field of cosmetic dentistry, through additional continuing education. For decades, The American Society of Dental Aesthetics has facilitated the exchange of best practices and innovations in cosmetic and restorative dentistry through our engaging learning events.

Dr. Mohr Speaks at the Long Island Dental Hygiene Forum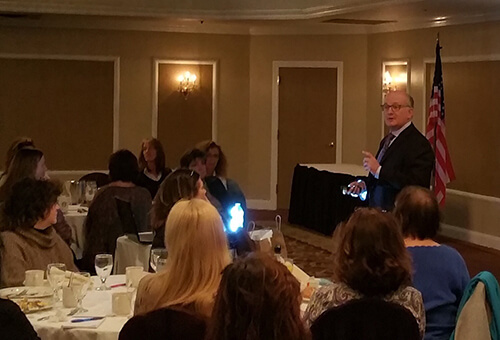 Dr. Mohr spoke with the Long Island Dental Hygiene Forum on Sunday, November 6, 2016. The topic was What Happens When the Chair Goes Back and The Lights Come On, and 100 of Long Island's best hygienists were in attendance. Techniques related to cosmetic and restorative dentistry were discussed, and Dr. Mohr enjoyed sharing his perspective and experiences to help others offer Long Island patients the best dentistry possible.
---
2015 Top Doctor and Dentist List
Congratulations To Dr Allan Mohr… Voted By His Peers And Selected To Top Dentists For Cosmetic And General Dentistry!
topDentists was started in January 2007 with the intent to identify the best dentists and specialists in the country and is the only list of its kind, chosen by the dental profession themselves.
topDentists has over fifty years in combined experience compiling peer-review referral guides in the legal, dental and medical fields. Using this experience along with the input of several prominent dentists in the United States, we have created a selection process that has been refined and improved over previous superlative guides. Because dentists must be voted in strictly by their peers, and virtually every dentist is given an opportunity to participate, and listings cannot be purchased (and no payment is required to be listed), inclusion in topDentists is considered to be a distinct honor. With a circulation of over 1 million and reaching nearly 10 million readers, topDentists is quickly becoming the most recognizable list of dentists in the U.S.
---
Who picks the Doctors and Dentists? A research and information company; Top Doc America, publishes their first annual list titled "2015 Best Doctors & Dentists", which lists those whom Top Doc America has determined to be in the top 10 percent of the region's Doctors and Dentists.
How Does Top Doc America Decide Which Doctors and Dentists Are The Best?
The firm conducts in person interviews with the majority of winners. As well, they deliver peer review surveys with Doctors and Dentists. Top Doc America sends out thousands of nomination forms to medical professionals. The idea is that healthcare professionals are best qualified to judge other healthcare professionals, and if one recommendation is good (think of your doctor or dentist referring you to a specialist), multiple recommendations are better. The firm also relies on patient reviews on websites such as: Web MD, Yelp, Rate MD, Health Grades, Google, Physician Reports, Dr Oogle and other leading independent healthcare rating companies. The interview asks recipients to nominate those doctors who, in their judgment, are the best in their field and related fields--especially those to whom they would refer their own patients and family members. (Doctors and Dentists are asked not to nominate themselves; nominations are kept confidential.) Top Doc America asks the nominators to take into account not only professional qualifications and reputation (education, residency, board certification, hospital appointment, and disciplinary record, for example) but also skills in dealing with patients (listening and communicating effectively, demonstrating empathy, instilling trust and confidence). Top Doc America then tabulates the results and examines the nominee pool, confirming the Doctors" board certification and licensing and investigating their disciplinary history. To select the Doctors and Dentists, Top Doc America sends out thousands of interview requests to medical professionals. The recipients include randomly selected board-certified Doctors and Dentists. The interviews conducted find those Doctors and Dentists who, in our judgment, are the best in their field and related fields. The main purpose of the award is to make it easier for the public to meet qualified doctors and dentists to help with the healthcare crisis. Top Doc America does not pick Doctors and Dentists based on medical experience, but relies on the popularity that they have in their community and the willingness for them to help with the healthcare crisis.
---
Watch Our Welcome Video!
---
Dr. Mohr on WGBB Healthy Living
Dr. Mohr was interviewed by Long Island's WGBB Healthy Living show discussing the impact of cosmetic dentistry on an individual's life.
---
Time To Help Others
Memorial Sloan - Kettering Cancer Center is proud to recognize and honor Dr. Mohr's outstanding leadership, commitment and financial support in the battle against cancer. The V.P. of Development, MSK, said in a message to Dr. Mohr "All of us are grateful for your generous donations and with your encouragement MSK seeks to make the most of the opportunities that lie ahead, both in refining our understanding of cancer and in shaping new approaches to treating it."
---
Making Strides Against Breast Cancer

One of the largest charity walks on Long Island, in which Dr. Mohr, his family and friends have participated, drew 60,000 walkers and raised $3 million last year. Individuals of all ages participate in a 5-mile, round-trip, noncompetitive walk on the Jones Beach boardwalk. In its 16th year on Long Island, the event honors survivors of breast cancer, remembers those who succumbed to the disease and raises money and awareness for research, patient services and advocacy efforts.
---
Give Back A Smile
Dentist looks to give victims of domestic violence a new smile
Read full article here.
Podcast
Click here to download our podcast.
---
Contemporary Product Solutions – Editor/Evaluator
Dr. Mohr is pleased to have been selected as part of an elite group of dentists chosen to review the latest products in the dental industry. As a Contemporary Product Solutions Co-Editor and Evaluator, Dr. Mohr has access to the latest dental dental materials and technologies. Dr. Mohr places these products under his critical eye, and then evaluates and selects the best technology for his patients. By sharing his findings with the dental world, he hopes to elevate the standards for selecting dental products and equipment nationwide.
"With the combinations of the world's leaders in their field, our dexterous, knowledgeable, and experienced leadership team stays ahead of the game by working hard to prepare for what's next in the field of cosmetic and esthetic dentistry and providing a whole team's perspective of information they need to succeed. Contemporary Product Solutions will continue to need and use unbiased, up-to-date, evidence-based information on equipment, materials, protocols of treatment, and long-term performance."

Shannon Pace Brinker, CDA, CDD Editor in Chief and Founder
---
Dr. Mohr in Contemporary Product Solutions
CONTEMPORARY PRODUCT SOLUTIONS
"A view from the other side"
I would like to personally take this opportunity to thank you for being part of our editorial/evaluation team for Contemporary Product Solutions. We are excited about the future of our new publication and believe your professional evaluating will play an integral part of our success and growth.

Our vision is to improve the clinical proficiency of the dental team with our unique approach of education utilizing print literature, podcasts and online videos. With the increasing demands of the dentist, the dental assistant is now taking on more functional responsibility than ever before. Contemporary's strategy is to increase the knowledge and expertise of the dental team and most importantly improve patient outcomes with our new business model.

As many of us our wrapping up 2009 and preparing for some deserve time off with family and friends, please enjoy and reflect on all the wonderful things you do for your patient's everyday. However, some of you will be receiving some product within the next week or two and we are asking for your assistance to be thorough and objective with your evaluation to meet our "hard deadline", Chicago Midwinter Conference. Your attention to detail and situational awareness will provide the necessary results our educational investors demand from us.

Once again, we are excited about your decision and commitment to be part of our evaluation team and are ready to start 2010 on a strong note. I look forward to meeting everyone on the evaluation team in the upcoming months. Thank you again for all you do and Happy Holidays!

Shannon Pace Brinker
Owner, CPS

Erik M Brinker
President, Contemporary Product Solutions
---
Excellence In Education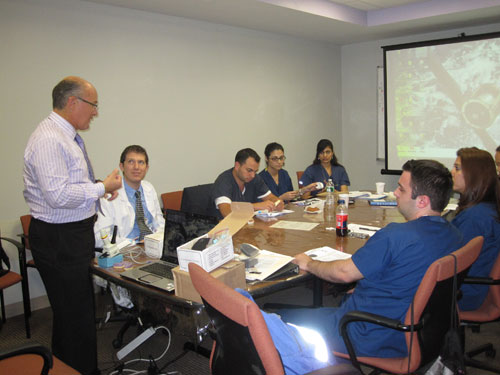 Dr. Mohr has served as the Section Chief in the Department of Cosmetic Dentistry at the Jamaica Hospital Medical Center, Residency Program since 1996 and recently received an Excellent Educator rating from the 2011 graduating Residents.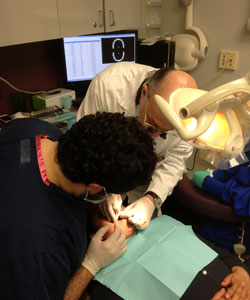 ---
Product Reviews and Case Studies
Dr. Mohr reviews the KöR Whitening Deep Bleaching System in Dental 360's Dental Product Shopper.Click here to read the full review.
Dr. Mohr details a challenging restorative procedure in this case study featured in the October 2011 issue of Dental Products Report.Click here to read the full article.

---