Massapequa Park Teeth Whitening
Dingy teeth can sap self-confidence and leave a person feeling forlorn. Help has arrived! Brighten your smile safely and effectively with professional teeth whitening. Dr. Allan Mohr offers three methods to eliminate stains and showcase your smile's radiance. When you visit our Massapequa Park dental office, we'll help you decide which method is best for you.
Kör Whitening: The Ultimate in Deep Bleaching Treatments
Kör Whitening Deep Bleaching offers modern and effective teeth whitening that can overcome stains that other teeth whitening systems may not be able to tackle. It's the only system known to lift stains caused by tetracycline, a medication that can darken teeth. With Kör teeth whitening, you can keep your teeth white forever with some simple home maintenance, and Kör is known for causing little to no tooth sensitivity too.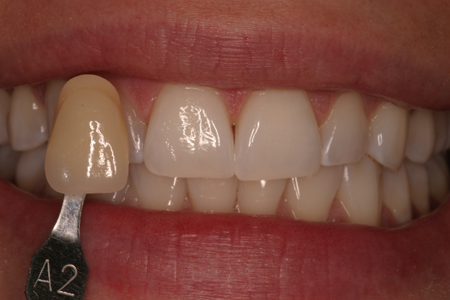 Actual patient of Dr. Mohr. Using KoR Whitening treatments,
we were able to lighten her teeth by 8 shades!
The Kör whitening procedure is totally safe and comfortable, and it's recommended for people ages 14 and up. Get ready for your next big event or just give yourself a boost of confidence for everyday life with Kör teeth whitening.
Zoom! In-Office Teeth Whitening
With Zoom! Whitening in-office treatment, Dr. Mohr harnesses well-known and widely trusted dental technology to enhance your treatment at our Massapequa Park office. With a special blue light, Zoom! can get your teeth several shades whiter in just one in-office treatment, usually lasting between an hour and an hour-and-a-half. We have massage chairs to make your visit more relaxing, and you can kick back and de-stress while we brighten up your smile with Zoom! Whitening.
Take-Home Teeth Whitening
With take-home teeth whitening trays specially made for you by our team, you can whiten anywhere, anytime. For some, this is a more attractive option than in-office whitening. We also recommend that anyone who takes part in in-office treatments follow them up with take-home bleaching to intensify and solidify the results. With custom-made teeth whitening trays, you get consistent results and a comfortable experience, and busy individuals love being able to decide when they want to whiten.
Dr. Allan Mohr loves helping our patients with various cosmetic dentistry treatments, including teeth whitening. By offering complete smile creations to Massapequa Park and surrounding communities, our team can improve how our patients feel about themselves as they go through their daily lives. Curious about how we can help you? Contact us for an appointment. Patients come to our office from Massapequa, Seaford, Wantagh, Lindenhurst, Long Island, and Farmingdale expecting excellence, and they find it because of our commitment to continuing education and cutting edge dentistry.