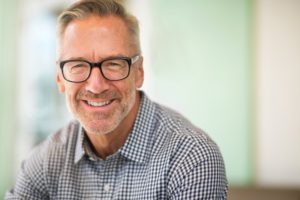 Absolutely everyone cares about who they see in the mirror each day, and this includes many "older" people, which depending on how you think about it, can apply to someone who's 40, 50, 60, 70, and beyond… Just like teens and young adults, people in these age groups often want to improve their appearance, and one of the simplest ways to do this is through cosmetic dentistry. Thanks to modern technology and techniques, there is no age limit when it comes to having a beautiful, pristine smile. So, if you think you've simply "missed the boat" when it comes to enhancing your grin, you're thankfully wrong, and you'll find out more about your options in today's blog.
A Gorgeous Smile at Any Age
For most of human history, having an attractive smile basically came down to luck—were you born with good genetics, or does your economic background enable you to get dental care regularly? These days, top-quality dentistry is easily accessible for everyone, and this includes cosmetic services. No matter your age or the current state of your teeth, cosmetic dentistry can be used to hide longstanding flaws, bring out the best aspects of your smile, and achieve a stunning, natural look that you'll be eager to show off each day.
How Cosmetic Dentistry Can Help Older Patients
In many people's minds, cosmetic dentistry is all about giving someone a fluorescently white smile that could easily serve as a light source in a dark room. While that used to be the case, today's cosmetic dentists can make much smaller, more refined changes. Now, a patient can achieve the best version of their unique smile rather than getting a generic, fake look. A cosmetic dentist can:
Get rid of stains and/or make sure a patient's natural teeth and restorations are the same shade.
Repair broken or chipped teeth with custom-made restorations that perfectly resemble real enamel.
Refine the gum line to make the teeth look more uniform and even.
Remove and update old, failing restorations with ones that seamlessly blend with the rest of the smile.
Use Digital Imaging Technology to design a smile that suits a person's face, skin tone, and preferences.
For many older patients, a necessary part of the cosmetic process involves improving their oral health, such as taking care of cavities, gum disease, and replacing missing teeth. This creates a strong foundation for any aesthetic work, resulting in a smile that is both beautiful and functional.
Your New Smile is Waiting
If you want a dramatic makeover that completely changes your smile, you can get one no matter what your birthdate might be. Or, if you just want a subtle update that masks a few small issues, a cosmetic dentist can help you with this as well. The only limit is the vision you have for your smile, not your age!
By sitting down with a cosmetic dentist, they can go over all of your options and walk you through the treatment process so you know what to expect each step of the way. Thanks to their expertise, you are sure to have a golden smile that will consistently enhance your golden years.
About the Author
Dr. Allan Mohr is an award-winning cosmetic dentist based in Massapequa Park who has been serving the community for over 30 years. He's able to give patients of all ages the smiles they've always wanted, and as you'll see in his Smile Gallery, he's already helped many older patients turn back the clock with custom makeovers. It's not too late to get your dream smile, and to start your journey towards it, contact Dr. Mohr today to schedule a consultation.