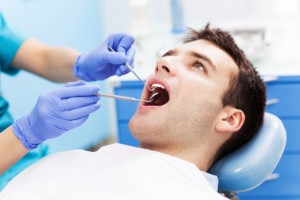 If you are looking for a dentist Massapequa patients have trusted faithfully for decades, look no further than the office of Dr. Allan S. Mohr. Our dedicated team has been serving the complete oral healthcare needs of Long Island families for nearly 30 years, and our patients are our passion. Because it's April and Oral Cancer Awareness Month, we'd like to take a few moments to provide our valued patients with some important information regarding this aggressive disease.
Oral Cancer Symptoms & Risk Factors
Every year, approximately 43,250 men and women in America are diagnosed with oral cancer. Of that staggeringly high number, only about half survive past five years. The key to successfully treating oral cancer is early diagnosis and prompt therapy before the disease has a chance to progress. This is why Dr. Mohr performs regular oral cancer screenings at his Massapequa dental office.
While a thorough oral cancer screening is the only definitive method of accurately diagnosing this life-threatening condition, there are some clear signs that you can watch for at home. These include:
A sore or ulcer that does not go away within two weeks
Unexplained numbness or tingling anywhere in the mouth, throat, or neck
A thickening of the skin in the mouth, particularly in the cheek lining
Red and/or white patches in the mouth or on the lips
Persistent cough or hoarseness
A difference in the way your dentures fit
Difficulty or pain chewing, swallowing, or opening and closing the mouth
People who use tobacco, drink alcohol excessively, and have HPV (human papillomavirus) are considerably more likely to develop oral cancer. To learn more about risk factors and how you can reduce your chances of suffering from oral cancer, simply ask a member of our friendly staff for more information.
A Dentist Massapequa Families Trust
As the dentist Massapequa patients turn to for general, restorative, and cosmetic dentistry in Long Island, Dr. Mohr is your premier source of comprehensive oral healthcare at all stages of life. Contact our office today to schedule your oral cancer screening, and take the first step toward a healthier smile and a longer life. Our Massapequa dental practice warmly welcomes patients from throughout Long Island and the surrounding areas, including communities in Lindenhurst, Seaford, Farmingdale, Wantagh, and beyond.