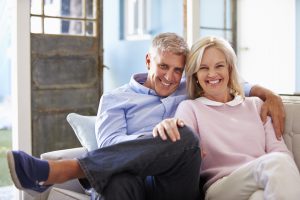 Missing teeth are an all too common problem in the U.S. today, but fortunately, dentistry has stepped up to the challenge and is able to offer a variety of fantastic replacement options. Out of all of them, both dentists and patients agree that dental implants in Long Island are simply the best. Why is this the case? Over 5 million people will receive dental implants this year alone, and that number is quickly expected to double by 2020. Today, we're going to tell you exactly why.
Dental Implant Basics
Now that we've built them up so much, it's probably a good idea to explain what dental implants actually are if you're unfamiliar with them.
A dental implant is a small titanium post that is placed directly into the jawbone in order to mimic the root structure of a lost tooth. This post, or posts, can then be attached to a multitude of dental prosthetics that can replace everything from a single tooth to an entire arch of teeth.
This post is what makes implants so special. In addition to giving a replacement tooth unrivaled stability, it also reestablishes essential support for the jaw, which no other treatment can do.
When a tooth goes missing, the jaw loses the internal support provided by the roots and naturally starts to atrophy, which can negatively affect the alignment of the teeth and change the entire appearance of the face. Dental implants are the only treatment that can stop and even reverse this process.
What It's Like To Get Dental Implants
The journey to rebuilding your smile with dental implants all starts by scheduling a consultation with a local implant dentist in Long Island. During this appointment, they'll examine your dental health, overall health, as well as the height and thickness of your jawbone (patients need a certain amount of healthy jawbone in order to support the implants).
After it is determined that implants are the right treatment for you, you'll be referred to a local specialist who will perform a minor surgical procedure in which the post or posts will be placed directly into your jawbone. Following this, you'll be given about 3-6 months to heal before returning to your dentist's office to have your new teeth attached to the implants.
Life with Dental Implants
Because dental implants recreate the entire structure of a natural tooth, both the root and crown, the results end up looking much more realistic than traditional crowns, bridges, or dentures. An implant also ensures that a patient will be able to speak clearly and eat any kind of food they prefer. With the proper maintenance, which only includes regular brushing and flossing as well as regular trips to your dentist, dental implants can be expected to easily last for 30 years or more.
In the end, they don't just feel like you've gotten new teeth, but that you've actually gotten your real teeth back. And, as a cherry on the sundae, thanks to their longevity, dental implants typically end up being the most cost-effective option as well because they don't need to be replaced every 5-7 years like other treatments.
Altogether, they offer the best of everything, and if you're looking to say goodbye to the gaps in your smile, you should contact an implant dentist in your area today.
About the Author
Dr. Allan Mohr is a preventive, restorative, and implant dentist based near Long Island, NY. As a member of the American Academy of Implant Dentistry, American College of Oral Implantology, and a Fellow with the International Congress of Oral Implantologists, he is one of the foremost authorities in the country when it comes to providing dental implants. If you have missing teeth and would be interested in getting them replaced, he is the man to talk to. To contact him, click here.