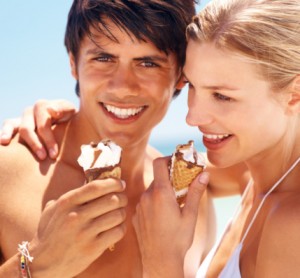 There's nothing quite like a cold, refreshing taste of frozen fruit or delicious ice cream on a sweltering summer day. Unfortunately, if you suffer from the pain and discomfort of sensitive teeth, indulging in the best icy cold treats of the season isn't exactly a pleasant experience. At Smile Creations in Massapequa Park, NY, Dr. Allan S. Mohr offers immediate relief from tooth sensitivity with a revolutionary product called Teethmate™ Desensitizer.
How Teethmate™ Desensitizer Can Benefit You
Hydroxyapatite, or HAp, is an exceedingly strong mineral found in the enamel and dentin that comprise our teeth. Teethmate™ Desensitizer effectively creates the HAp mineral compound via a reaction between two types of calcium phosphate and water. When Teethmate™ Desensitizer is applied to the surfaces of the teeth, the HAp fills microscopic fissures and cracks in enamel. The material hardens immediately without the use of curing lights or an air blow gun.
Highly biocompatible with no risk of gingival irritation, Teethmate™ Desensitizer utilizes the proven power of naturally occurring elements to strengthen and protect tooth enamel, eliminating sensitivity in a single treatment. There is absolutely no risk of damage to the gums or enamel, and there is no film thickness to detract from the natural look and feel of your teeth. Simply enjoy a life free of tooth sensitivity with Teethmate™ Desensitizer from Dr. Mohr.
Discover Real Tooth Sensitivity Relief Today
If you've been avoiding cold foods and the refreshing summer beverages you love due to tooth sensitivity, now is the time to take action and find real relief with help from Dr. Mohr and his team in Massapequa Park, NY. Finally enjoy ice cream, cold fruit, and chilled poolside drinks without the intense pain of sensitive teeth. Our state-of-the-art dental practice welcomes families from throughout communities in Farmingdale, Long Island, Massapequa Park, Seaford, Lindenhurst, Wantagh, and the surrounding areas. Contact us today to discover how much more enjoyable life can be with a healthy smile that feels as good as it looks.