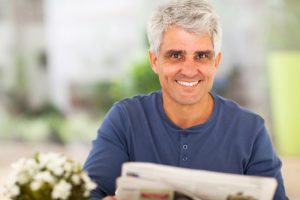 Literally for hundreds of years, dentures have provided a reliable and affordable solution for people missing several teeth. Today, these prosthetics can be custom-made to perfectly fit every patient, instantly restoring not only their oral health, but their confidence as well. Patients have more choice than ever, but their options basically boil down to two: traditional dentures and implant dentures on Long Island. If you were to ask your dentist which one is better, they would definitely point you towards implant dentures, and here are just a few reasons why…
They Are More Stable
Traditional dentures are usually held in place one of two ways. Either they have metal clips that go around neighboring teeth, or they sit directly on the gums with the help of natural suction/denture adhesive. While these create a stable fit initially, many people end up with "floating" teeth they can't rely on.
Instead, implant dentures are secured directly to the jawbone using multiple titanium posts that act like artificial tooth roots. Thanks to this foundation, which is much more similar to natural teeth, patients never have to worry about their prosthetic slipping or sliding out of place.
They Last Much Longer
Typically, a regular denture will need to be replaced every 5-7 years on average. Not because the prosthetic is worn, but because the jawbone naturally changes shape over time after tooth loss. Patients usually have to get multiple relines along the way just to enjoy a comfortable fit.
Dental implants, on the other hand, actually stimulate the jawbone just like real teeth roots and encourage it to stay healthy, maintaining its shape. The end result? Implant dentures are able to maintain their day-one fit much longer, giving patients one less thing to think about.
They Are More Comfortable
Compared to traditional dentures, implant dentures are actually much smaller. This is because they don't require acrylic attachments that cover the palate of the mouth in order to stay secure. Because of this, they leave more room in the mouth, allowing the tongue to move freely, and have a more comfortable fit overall. Their reduced size also means patients are able to taste their food better.
They Have a Better Bite
With a regular denture, a patient will recover about 20% of their bite strength. While this is certainly better than nothing, this limitation prevents most patients from enjoying tougher foods like fibrous vegetables and cooked meats, which leads many to mostly consume easier to chew, less nutritious foods. A large percentage of denture patients actually end up suffering from malnutrition because their diet is so restricted.
However, implant dentures have been shown to restore at least 70% of someone's bite force, enabling patients to eat pretty much whatever they want without worry. Not only does this lead to a more enjoyable diet, but one that is better for overall health as well.
And the Winner Is…
If it were up to your dentist, they would give all their patients implant dentures because of these unique benefits, but as with any dental work, they aren't right for everyone. Would you be a good candidate for implant dentures? The only way to find out is to schedule a consultation with an implant dentist in your area. They'll be able to go over all of your options, and before you know it, you'll have a full and confident smile again.
About the Author
Dr. Allan S. Mohr is an award-winning family, cosmetic, and implant dentist based in Massapequa Park. With over 35 years of experience and countless successful implant cases under his belt, he's the #1 person to talk to if you're interested in replacing your missing teeth. To learn more about your options and schedule a consultation, he can be reached through his website.