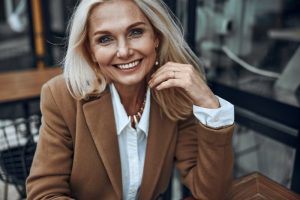 Literally millions of people are unsatisfied with the appearance of their smiles, but the reasons for this can be quite different from person to person. That's why a smile makeover is such a great option for a wide variety of patients. It allows their dentist to customize a cosmetic treatment plan to meet someone's specific needs and achieve their perfect look, no matter what flaws they might have. What all can a smile makeover on Long Island actually change when it comes to your teeth? More than you might think!
What Exactly is a Smile Makeover?
A "smile makeover" is an umbrella term that refers to a personalized treatment plan designed to help a patient achieve their ideal smile. The specific procedures it involves can vary from person to person depending on their needs and goals. Sometimes, it may mean that a dentist only adjusts one problem tooth, or they could use multiple procedures to address several issues at once. The first step of every smile makeover is for a patient to have a conversation with their dentist where they outline exactly what they want, discuss their treatment options, and plot out a plan.
Possible Smile Makeover Procedures
A smile makeover can help correct both cosmetic and functional issues within a smile, so it may include some (but not all) of the following procedures:
Porcelain veneers
All-porcelain crowns
Cosmetic bonding
Teeth whitening
Gum recontouring
Tooth-colored fillings
Dentures
Dental implants
How a Smile Makeover Can Transform Your Smile
The possibilities with a smile makeover are much broader and comprehensive than you might think. It can be used to adjust and enhance all aspects of your teeth and more:
Color (can make the teeth whiter or ensure they are all the same shade)
Size (do your teeth look too short or are uneven?—a makeover can fix this)
Spacing (whether it's due to alignment or missing teeth)
Balance (making sure your smile shows the right proportion of teeth and gums)
Texture (get rid of obvious flaws and make your teeth look naturally smooth)
Smile line (ideally, the curve of the teeth that show when you smile follows your lower lip)
Facial appearance (the teeth play a big role in the overall look of the face, and with the right treatment, a patient can bring out their jawline, make their cheeks look fuller, and more.)
Taking all of these factors into account, a cosmetic dentist can help a patient achieve a smile that is beautiful, natural-looking, and can be trusted to last for several years.
How to Get Started
The options are really endless with a smile makeover, but the first step is the same for every patient: they should give an experienced cosmetic dentist a call. That way, they can let their dentist know exactly what they want to change about their teeth, and then they can put together a plan that outlines a clear path to a stunning smile.
No matter what is making you feel self-conscious about your smile right now, whether it involves one tooth or all of them, a smile makeover can definitely help, and you can start getting the look you desire by contacting a cosmetic dentist today.
About the Author
Dr. Allan Mohr is a cosmetic dentist on Long Island with more than 30 years of experience transforming people's lives and smiles. You can see examples of the countless patients he has helped over the years here, and if you would like to schedule a FREE smile makeover consultation with him, all you need to do is click here and hit the "Request Appointment" button.