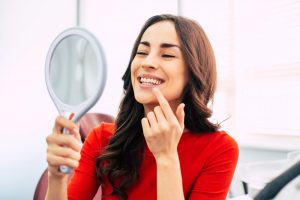 There are millions of people out there who would love to get some cosmetic dentistry to improve their appearance, yet they never actually go through with it. Why? In many cases, it's because they're afraid they won't like the results, and reversing them might require a long and expensive process, if it's even possible. At Smile Creations, the best Long Island cosmetic dentist, Dr. Allan Mohr, is able to completely eliminate this uncertainty for his patients using Digital Smile Design. Thanks to this technology, his patients are able to see their results before undergoing any treatment so they already know they'll love their new smile.
What is Digital Smile Design?
Digital Smile Design sounds relatively simple on the surface, but in order for it to be effective, you have to work alongside a highly-experienced cosmetic dentist like Dr. Mohr. After discussing what you would like to change about your teeth, he'll take multiple photos of your current smile. Based on your input and his expertise, he'll create a digital mock-up of what you'll look like after getting teeth whitening, porcelain veneers, or any other procedure you're interested in. Once you like what you see in the "after" image, he can work his magic and turn that smile into yours!
Why Patients Love Digital Smile Design
Instead of just guessing that you'll like what you'll get from a particular treatment, Dr. Mohr can actually show you using a highly-detailed image.
Adjustments can be made in seconds. Don't like what you see in the altered image? Want your teeth to be whiter? Spaced more evenly? Dr. Mohr can change anything you want before ever touching your teeth.
With this approach, rather than simply having dentistry "done to you," you're an active participant in the process. Your input will directly influence the final result, so you can take even more pride in your new smile.
Beth's Story
Beth was a patient of Dr. Mohr's who wanted to update some old dental work, and like many people, she was uncertain of what exactly should be done. Digital Smile Design, however, made it as easy as possible for her to get the perfect result. In her own words:
"Years ago, dentistry did not have digital cameras and computers to show you before and after pictures so that you could get a sense of what the outcome would look like. Cosmetic dentistry has come a long way! Making a decision to pick the right cosmetic dentist can be daunting, and picking Dr. Mohr is the best decision I ever made. Thank you Dr. Mohr and your entire staff for a truly exceptional experience."
Come See Us
Getting the smile you've always wanted is easier than ever thanks to Digital Smile Design. If you're looking to enhance your appearance just like Beth, Dr. Mohr can use it to ensure you'll instantly fall in love with your new look. To learn more about this technology and what our practice can do for you, contact us today.
About Dr. Allan Mohr
Dr. Allan Mohr is an award-winning cosmetic dentist with more than 30 years of experience and nearly 100 5-star Google reviews. He's widely recognized as one of the leading aesthetic dentistry experts in the country, and he always integrates the latest technology into his practice so he can provide even better and more comfortable care for his patients.