Porcelain Veneers

Smile of the Month
December 2019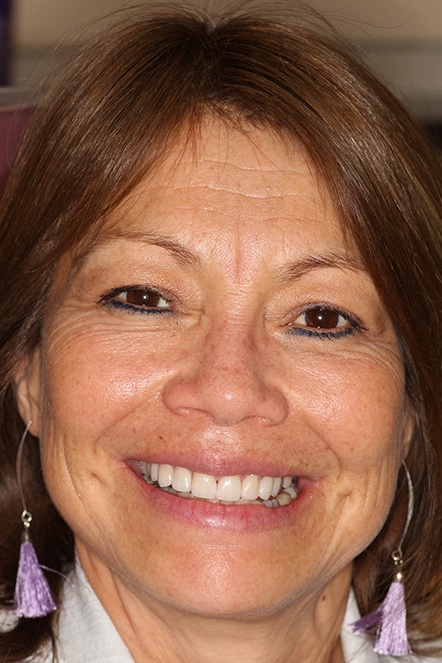 For some folks who are dissatisfied with the appearance of their teeth, it takes a little nudge to encourage them to do something about it. In Minnie's case, it was seeing her husband take steps to improve his smile. He originally had worse teeth than hers, as she says, and he turned to Dr. Mohr for help. After seeing his wonderful transformation firsthand, Minnie was inspired to take the plunge. She scheduled her own consultation to see what magic could be worked on her smile.
And she's never looked back.
You see, Minnie had struggled with a gap between her front two teeth and generally misshapen teeth for a while. She never knew what a difference fixing them would make for her overall appearance -- but digital smile design from Dr. Mohr's office let her see just how fantastic she would look after porcelain veneers. This is a tool that Dr. Mohr uses to apply a treatment to a smile before any work actually begins. When patients can see just how fantastic their results are going to look, they are much more inclined to take that exciting step. As Minnie says, "After a little time to think, I decided to do it."
Porcelain veneers are thin coverings made of dental porcelain. They can be bonded directly onto the front surface of imperfect teeth for a truly dramatic but naturally gorgeous transformation -- just look at Minnie's results for yourself! The veneers have completely covered the gap and reshaped the teeth while preserving her natural beauty. With proper care on Minnie's side, these veneers will stay beautiful and intact for years to come.
Minnie, In her Own Words
We were so happy to find that Minnie left us an online review. These help us share the stories of the work we do for patients who are interested in getting cosmetic dentistry for themselves -- like, maybe, you! Read what Minnie has to say about her smile transformation:
"For years, I have wanted to fix the gap between my front two teeth but have been hesitant to do so, thinking 'why mess with my real teeth?' I also had a couple of chipped teeth that bothered me, too (even though they were minor). My husband had been looking to fix his teeth (which were much worse), and after a long search, decided to go with Dr. Mohr. After seeing the work he did with my husband, I decided to go see what he could do for me. He showed me a photo of what my teeth would look like with veneers and promised the outcome would be the same. After a little time to think, I decided to do it. I am certainly glad I did! Looking in the mirror, I was really satisfied with the outcome, but it didn't really hit me until after visiting my family and taking group pictures. Only then did I notice how nice my smile was. Thank you, Dr. Mohr, for my beautiful smile!"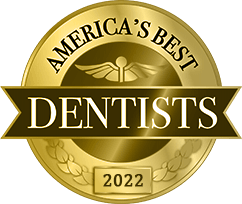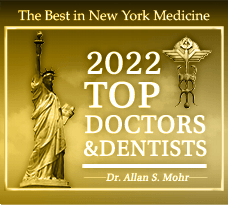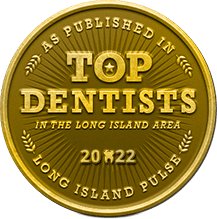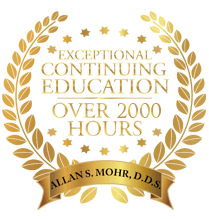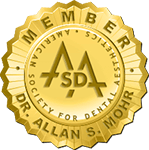 Ask Us

How

We Can Change Your Life