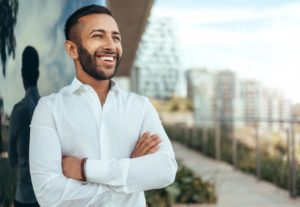 Veneers are one of the most in-demand cosmetic procedures in the world, whether you're talking about dentistry or not. They are practically required if you plan on being an actor, singer, or model, and if you've ever watched a movie or TV, then you've definitely seen them. Fortunately, this treatment can provide tremendous benefits for every single kind of patient, no matter their goals, and below, you'll learn about 5 that you'll enjoy from the moment they are placed on your teeth.
1. Make Multiple Flaws Disappear
Typically, if a patient is interested in cosmetic dentistry, it's because there are multiple things they don't like about their teeth, such as stains, crookedness, gaps, or otherwise imperfect enamel. With veneers, a single procedure can make all of these issues disappear behind a pristine white smile. This saves a patient from having to get multiple treatments, which is great for both their schedule and wallet.
2. Fast & Dramatic Changes
If you want to improve your appearance and make yourself look younger, two effective options are weight loss and cosmetic surgery. Of course, these both have obvious drawbacks, chief among them being that it takes a very long time for the final results to become apparent. With veneers, however, the entire process only requires two appointments spaced about a week apart. Not only that, but from the moment your veneers are attached to your teeth, there is no healing process necessary—your new smile will be ready for the world immediately.
3. More Confidence Every Single Day
If you have a job that involves a lot of face-to-face time with clients, then veneers are a wise investment, as research has shown again and again that people with beautiful teeth are thought of as smart, friendly, intelligent, and capable. But, even if it's just friends and family that see your smile, feeling confident in your grin can give you a tremendous sense of wellbeing that you'll enjoy from the moment you see your teeth in the mirror each morning.
4. Repair Damage at the Same Time
While veneers are primarily spoken of as a cosmetic treatment, they also offer a proven solution for repairing chips, cracks, and broken teeth. The porcelain used is extremely strong, and when placed onto a tooth, it can strengthen and reinforce enamel in addition to making it look more eye-catching.
5. A Solution That Lasts
While weight loss is something you'll have to maintain with daily exercise and a disciplined diet, and the results of cosmetic surgery will fade as you age, with veneers, you will enjoy your dream smile for a lifetime to come. Veneers have a 15-20 year lifespan, and by simply maintaining regular checkups with your dentist, they can make minor repairs and replacements before any issues become noticeable. In the end, you'll have the peace of mind that your teeth always look their absolute best.
These are just a few of the reasons that veneers are so popular, so if you're ready to take your smile to the next level and stop worrying about what people think about your teeth, then they should certainly be on your radar. By getting them from a trusted cosmetic dentist, you can look forward to these benefits for decades to come.
About the Author
Dr. Allan Mohr is a cosmetic dentist on Long Island that has served the Massapequa Park area for over 30 years. Over the course of his career, he has completed over 2,000 hours of continuing education, earned multiple awards, and become one of the most well-respected authorities in the realm of cosmetic dentistry. He is able to work wonders with veneers, and you can see a few examples here. To learn more about what he could do for your smile, click here to schedule a consultation.