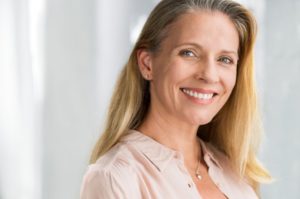 Everything you need to know about a "smile makeover" is in the name, right? It can certainly help your teeth look better, but that's about it. While this might sound intuitively true, in reality, it's not! When provided by a skilled cosmetic dentist, a smile makeover can offer several life-changing benefits beyond simply enhancing the color and shape of the teeth. Here are just a few of them.
Boosted Confidence
A smile makeover not only changes how the teeth look physically, but most importantly, it alters how a patient feels about them. Before the treatment, a patient may be nervous or shy around people because they worry about how they'll be judged due to their less-than-perfect teeth. Afterward, they can't wait to introduce themselves or say yes to social engagements because their smile makeover has given them the confidence and peace of mind to feel relaxed and comfortable going into any situation.
Always Make the Right First Impression
Whether you work in sales or are single and hoping to meet someone special, first impressions are more important in today's world than ever before. The appearance of your teeth is a big factor, as those with pristine pearly whites tend to be thought of as smart, intelligent, friendly, and professional even by those who don't personally know them. Dozens of scientific studies back this up, so if you're hoping to get a leg up in your professional or personal life, a smile makeover is a proven way to do so.
Repair Damaged Teeth
In most cases, a smile makeover involves not only making the teeth look whiter and more uniform, but also repairing things like cracks, chips, and wear due to grinding. While this certainly helps with aesthetics, fixing these issues is also great for someone's oral health, as this will prevent bigger problems down the road and lower someone's risk of cavities and tooth loss.
Enhance the Entire Face
In the right hands, a smile makeover can improve the look of the entire face, not just the smile. Building up the teeth and giving them the right height can elongate the face, bring out the cheekbones, help the neck appear slimmer, and even get rid of wrinkles. This is why after getting a makeover, most patients don't just comment on their teeth, but remark that they look like a better, younger version of themselves.
In short, the benefits of a smile makeover are more than just skin deep. It can help you look and feel your very best, affecting your quality of life in ways you never imagined before.
About the Author
Dr. Allan Mohr is a cosmetic dentist on Long Island who has served the Massapequa Park area since 1986. He has completed over 2,000 hours of continuing education, earned multiple awards, and become one of the most well-respected leaders in the realm of cosmetic dentistry. He has provided countless smile makeovers throughout the years, and you can see a few examples here. To learn more about what he could do for your smile, click here to schedule a FREE consultation.