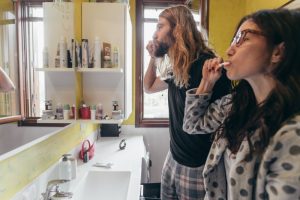 Chances are that within the past two weeks, every conversation you've been a part of, whether in person or (most likely) online, has revolved around COVID-19. Pretty much everyone's daily routines have been thrown out the window, and it's reasonable to think that the last thing on your mind is…your teeth. Unfortunately, even during this pandemic and the associated quarantine, dental emergencies ranging from toothaches to knocked-out teeth can still happen. Most dental offices are only seeing the most urgent patients, but what constitutes a true dental emergency? Fortunately, a Long Island emergency dentist is happy to share everything you need to know to look after your smile during this unique time.
Tip #1: Keep Brushing & Flossing!
The best thing you can do to avoid a dental emergency or any other kind of dental problem is simply brush and floss your teeth every day. You should brush for at least two minutes twice and floss in the evening (be sure to set a timer if you don't have an electric toothbrush). This will largely prevent the growth of harmful bacteria in your mouth that can lead to cavities, gum disease, pain, and loose teeth.
Tip #2: How to Tell if You Have a REAL Dental Emergency
Right now, the Centers for Disease Control and Prevention are recommending that you stay at home as much as possible, which means you should only visit the dentist in case of a real emergency. But, what is a real dental emergency? In general, they involve any situation in which someone is experiencing extreme pain or has sustained a serious injury to their teeth and mouth. Common ones include:
A severe toothache that only seems to be getting worse
A broken or fully knocked-out tooth
Oral bleeding that doesn't stop after 10 minutes
Swelling in the mouth that is threatening to close off the airway
Dental pain in conjunction with a fever (which may indicate a serious infection)
In these situations, call your dentist immediately. They will let you know what to do in the moment and schedule you for an appointment right away. When you go to the practice, you can trust that every member of the team will take extra precautions to ensure you stay safe and healthy.
Tip #3: Not Sure if It's an Emergency? Call Anyway!
If you're uncertain whether or not your dental issue is an emergency, go ahead and call your dentist anyway. They can let you know how to take care of the situation at home (like using an OTC medication or saltwater rinse to stop minor pain) or decide that you need to come in. Simply waiting and not doing anything might allow a small problem to become urgent, and no one wants that!
Even though it might be a while until your next checkup and cleaning, you can maintain a healthy smile by practicing consistent oral hygiene at home, and if you ever need professional help for something serious, you can trust that your dentist will still be there for you.
About the Author
Dr. Allan Mohr is a general, cosmetic, and emergency dentist based on Long Island who has been serving the community for over 30 years. Right now, his office is only seeing emergency dental patients and is taking all kinds of special precautions to ensure everyone's safety. If you have a question or believe you might be experiencing a dental emergency, you're invited to contact us.