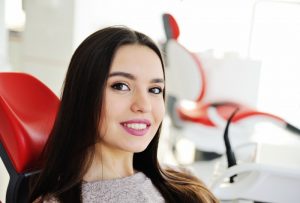 Amid the COVID-19 pandemic, many of us are spending a lot more time at home and catching up on whatever streaming or reading we've been putting off for months, and it can be tough to think ahead. Fortunately, for those who were interested in getting cosmetic dental work before the world changed, we have some good news: Dr. Allan Mohr, a highly-experienced Long Island cosmetic dentist, is accepting appointments right now for procedures like teeth whitening, veneers, and dental implants for late April! As everything gets back to normal, Dr. Mohr can make sure the next time you go out, you have a brand new smile to show off. Read on below to learn a little more about some of our most popular treatments.
Veneers: Hollywood's Open Secret
If you've ever watched a movie or TV show, seen an actor's smile, and thought, "That is just PERFECT!" then you were likely looking at veneers. It's the well-known secret behind many of Hollywood's most stunning smiles, and now, you can get the exact same treatment right here on Long Island!
The procedure involves bonding extremely thin shells of dental porcelain to the front of the teeth, and with them, Dr. Mohr can dramatically improve the size, spacing, and color of the smile while disguising multiple flaws at the same time (including chips, cracks, gaps, and stains). And, so you don't end up with that generic, fluorescent white appearance sported by many actors, Dr. Mohr includes almost imperceptible aesthetic imperfections in his veneers. This helps them look beautiful and also have a natural appearance that makes them incredibly lifelike.
Teeth Whitening: Say "Goodbye!" To Annoying Stains
Millions of cups of coffee are consumed each and every day, and that's just on Long Island! Unfortunately, this beverage, along with things such as tobacco use, wine, and genetics can all leave the smile looking more brown or yellow as opposed to white. Thankfully, no matter what may be discoloring your teeth, Dr. Mohr has just what you need to make them six to eight shades whiter.
At Smile Creations, we offer three different whitening treatments: Zoom!, Kor, and custom-take home kits. Each one is ideally suited for tackling certain types of stains, and with Zoom!, you can get everything done in a single appointment. Kor can remove even the deepest stains that most other treatments leave behind, and with a take-home kit, you can enjoy professional results on your own schedule and give yourself periodic touch-ups whenever you want.
Dental Implants: The Ultimate Solution for Tooth Loss
One of the biggest problems that can negatively affect the appearance of your smile is tooth loss, and this can lead to all sorts of oral health issues as well. Instead of getting a bulky, ill-fitting denture or bridge, Dr. Mohr can practically bring your teeth back with dental implants. This treatment involves placing titanium prosthetic tooth roots into the jawbone and then topping them with custom restorations. They can be used to bring back any number of teeth, and because they restore the entire dental structure from root to crown, they are extremely stable, lifelike and preserve the health of the jawbone, which is something no other treatment can do. Even better, when placed and restored by Dr. Mohr and his dream team of periodontists and oral surgeons, implants have been shown to last an impressive 30 years or more, making them one of the best deals in all of dentistry.
How to Get Started
This is just the tip of the iceberg when it comes to all of the cosmetic services we offer, and you can learn more by exploring our website or giving our office a call. You can even schedule a FREE smile makeover consultation so Dr. Mohr can learn about your goals and go over your options in person. Remember, cosmetic appointments will only be scheduled for late April, but until then, feel free to contact us to ask any questions you might have!