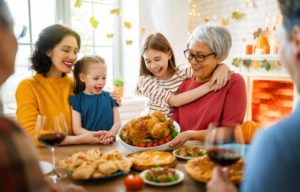 Thanksgiving is just a few weeks away, and if you've been living with missing teeth for a while, then you're probably used to eating with an incomplete smile. As you know, unwanted gaps cannot only hamper your confidence, but also make chewing certain foods very uncomfortable and even impossible in some cases. Fortunately, there is something you can do to make sure that Thanksgiving 2023 and every other important occasion isn't impacted by your missing teeth. With dental implants, you can look forward to enjoying all of your holiday favorites with both comfort and confidence.
Long-Term Issues Caused by Eating with Missing Teeth
A person's dental health has a huge impact on the quality of their diet. In the case of missing teeth, this makes it difficult for someone to eat highly nutritious, but hard-to-chew foods like meat and fibrous vegetables. As a result, their meals may mostly consist of soft foods with a lot of added sugar.
Eating a diet that is rich in sugar and carbohydrates cannot only impact your waistline, but also your oral health, as excessive sugar exposure fuels the harmful bacteria in your mouth that are responsible for gum disease and cavities. Plus, chewing with missing teeth can end up putting a lot of pressure on the gums, making mealtime uncomfortable. On top of this, many patients feel self-conscious about taking big bites because they don't want people to notice their teeth, which can take the wind out of any occasion, Thanksgiving or otherwise.
How Dental Implants Can Help
Compared to other tooth replacement options like bridges and dentures, dental implants stand above them when it comes to strength, durability, and aesthetics. Rather than just sitting on top of the gums, dental implants are small titanium posts that are surgically placed into the jawline to recreate tooth roots. They can be topped with a crown, bridge, or denture to bring back the entire structure of missing teeth.
Dental implants are free-standing, so they don't put pressure on the nearby teeth or gums like dentures, and they also are extremely secure because they are held in bone just like your natural teeth. As a result, there are absolutely no diet restrictions—patients can eat whatever they like! And, they don't have any obvious attachments that stick out in the smile. With minimal maintenance, they can easily last for over 30 years.
Looking Ahead
Depending on your situation and current oral and overall health, getting dental implants can take anywhere from a few months to almost a year. Once this Thanksgiving is over, you can start the process and be done well before the holidays come up again. With them, you'll be able to sit at the table with confidence knowing you can eat whatever you like and will look great in the inevitable photos of the occasion.
About the Author
Dr. Allan Mohr is an award-winning cosmetic and implant dentist who has served the Massapequa area for more than three decades. As a leading provider of dental implant restorations, he knows how to help patients achieve their ideal smiles as efficiently as possible with the help of his Dream Team of local specialists. If you're ready to finally take care of your missing teeth for good, Dr. Mohr is eager to help, and you can learn more by contacting him today.