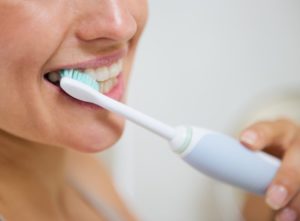 While you'll find countless brands of toothbrushes in stores these days, people have basically been limited to two types for a long time: manual and electric. But of course, someone had to come in and try to do something different. The Colgate Smart Electronic Toothbrush E1 is the first smart toothbrush being sold by technology giant Apple. With plenty of unique features and a $99.95 price tag, is this brush an innovative leap forward or just hype? A dentist on Long Island offers a quick and concise review so you can know whether or not it's worth your time and money.
What Makes This Brush Special?
In addition to being a sonic toothbrush (which has been proven to remove more plaque compared to manual brushes and oscillating electric ones), it also works with the Colgate app. What does this app do for you? It can show you how to brush properly, track where your brush is in real time to see if you've missed any spots in your mouth, and of course, it can gather up all your brushing data to show your overall habits and point out how they can be improved. It's almost like having a dental professional in your pocket, allowing people to know more and be extremely proactive with their dental hygiene so they can refine their routines and avoid the most common problems.
The Good, the Bad, & the Frustrating
The Good
First and foremost, it's a high-quality sonic toothbrush, which is to be expected when you have companies like Apple and Colgate behind it. It's also noticeably quieter compared to similar models. The app is very informative, and it can definitely help both children and adults alike brush better in a particular session and over the long term. The app even has two games that utilize the brush as a controller, which is great for children who are still learning or aren't particularly enthusiastic brushers.
The Bad
The bristles on the brush head are notably softer compared to other sonic toothbrushes, so it's not able to provide as effective as a clean, though it still does a great job removing plaque and food particles from between the teeth. The other downside is that this means the bristles will wear down faster, meaning they need to be replaced more often.
The Frustrating
The app sounds great initially, but in practice, it can be quite infuriating. Firstly, where do you put the phone while brushing? It's supposed to give someone real-time feedback so they know they aren't skipping any teeth, but holding it up to your face feels awkward, and placing it next to the sink can be risky. Also, the Bluetooth connection between devices can be faulty. If the brush disconnects from the phone, you have to start the brushing session over, otherwise the app will log that you've missed half of your mouth and send you all kinds of "motivating" notifications.
The Final Verdict?
If you're happy with your current toothbrush, and it doesn't need to be replaced, then by all means, keep using it! There is a lot of potential for this smart toothbrush, but right now, the inconsistency of the app may make it more of a distraction rather than a timesaver for most people (particularly children). The wisest move is to wait and allow the app to be updated and patched so the kinks can be worked out. But, if you're the type of person who always likes to have the latest gadgets, you'll likely still be happy with the extra functionality offered by the toothbrush/app combo.
About the Author
Dr. Allan Mohr knows a thing or two about toothbrushes, seeing as how he has been a practicing and award-winning dentist for over 30 years. Home oral hygiene is more important than ever due to shelter in place ordinances and COVID-19, so if you would like recommendations about which products you and your children should be using, he would be happy to talk to you and point you in the right direction. You can contact our practice by clicking here.