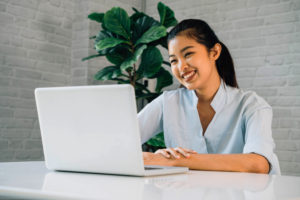 COVID-19 has changed the employment landscape. Many industries are suffering, while others are desperate to get more people onboard. Regardless of where you are looking for a job, however, you should arrive at your virtual interview well-prepared. That may involve doing homework on your prospective employer, thinking about how you are going to answer questions, and making sure you have a distraction-free space in your home to set up the interview. And there is one more thing you should consider — your smile. Let's discuss how a winning smile can help you land your ideal job.
Employers Notice Appearance
According to one estimate, 46 percent of recruiters say that a candidate's appearance affects their hiring decision. What's more, 41 percent report that they notice a candidate's appearance even before the interview (they may check out your social media profiles, including both LinkedIn and Facebook).
During your interview, your smile can play a huge role in how the other person perceives you. In fact, it can make you appear more successful and more attractive than if you frown or maintain a neutral facial expression. Moreover, if your smile is confident and easygoing, that will automatically score you some extra points. However, if you seem nervous or you hesitate to smile, the interviewer may conclude that you do not really want the job or that you would not be a good fit for the company culture.
Refining Your Smile
Here are some tips for preparing your smile for your interview:
Practice. Practicing your smile and the answers to the interview questions in front of a mirror (or recording yourself on your phone camera) can give you a good idea of how the interviewer might perceive you.
Step up your oral hygiene. How are your brushing and flossing habits? Even if your interview will be on Zoom or another video platform, having a clean smile can be a confidence booster.
Consult with a cosmetic dentist. Do you have aesthetic flaws in your teeth that make you self-conscious about your smile? Professional teeth whitening or porcelain veneers might be just what you need to give you the gorgeous grin that's going to help you land the job. You may not even have to visit the dentist to find out what they can do for you; many offer virtual cosmetic dental consultations in Long Island. If you decide to move forward with treatment, you can arrange to visit the dentist in-person.
Are you looking for a new job? An attractive, confident smile can be a huge asset during the hiring process!
About the Author
Dr. Allan S. Mohr is a cosmetic dentist in Long Island who is passionate about creating picture-perfect smiles that stand the test of time. He has completed training at some of the world's most prestigious facilities, including the Pankey Institute and the Dawson Academy. He offers virtual cosmetic consultations. If you would like to learn how Dr. Mohr can help you achieve an interview-ready smile, contact our team at 516-541-7344.