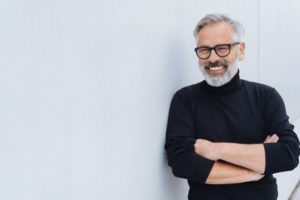 As a senior citizen, you have some distinct advantages in life. You've gained the wisdom that can come only with experience, and perhaps you have reached the point where you are retired and are ready to enjoy the "good life" that you have been spent years looking forward to. However, you might also find that as you age, your dental health is changing. Not to worry — as the best dentist in Massapequa Park, Dr. Allan S. Mohr is ready to help you enjoy a healthy, radiant smile that reflects your youthful spirit. Let's discuss some of the dental needs that are common among seniors and how expert dental care can help you overcome challenges to your oral health.
How Your Smile Changes with Time
Genetics, normal wear and tear on the teeth, and years of poor dental habits might all have a drastic impact on a senior's oral health. Individuals who are up in years are more prone to experience:
Darkened teeth
Dental decay (often due to mobility problems that limit brushing and flossing ability)
Gum disease
Tooth loss
Bone deterioration in the jaw due to past tooth loss
Noticeable aesthetic imperfections due to old metal restorations
Gum inflammation due to poorly fitting dentures
While all of that might sound a little dire, there is no reason to become downhearted due to existing dental problems or the threat of future ones. Modern dentistry is able to prevent and/or reverse many of the oral health challenges that typically come with age.
Regaining a Youthful Smile
Here are some of the methods that a dentist might use to help you regain and maintain a healthy, attractive smile at any age:
Replacing old metal restorations with custom-made porcelain restorations
Fortifying worn teeth with porcelain crowns
Reshaping teeth with porcelain veneers
Replacing lost teeth with dental implants or dentures
Renewing gum health with periodontal therapy
Coaching to help you take excellent care of your teeth on a daily basis
Choosing the Right Dentist for Seniors
Due to the unique dental needs that come with age, you should be picky when you are choosing a dentist. Before you schedule an appointment with a practice, ask the following questions:
Does this dentist cater to a certain age group? Some dentists prefer to focus on children or families rather than senior-aged adults.
What kind of education and experience does the dentist have? In New York, dentists are required to complete 60 hours of continuing education every three years. It is best to choose someone who exceeds that minimum requirement.
Does the dentist have a track record of success in treating senior adults? Many dentists have a smile gallery on their website that showcases some of their most successful restorative cases.
Dr. Allan S. Mohr of Smile Creations in Massapequa Park checks all the right boxes when it comes to providing top-quality dentistry for seniors. He would be happy to help you fall in love with your smile!
More About Dr. Mohr
Dr. Mohr has nearly four decades of experience. Throughout his remarkable career, he has gained a reputation for going above and beyond the call of duty. In fact, he has regular been recognized as one of the nation's Top Dentists by the Consumers Research Council of America. He has also been heralded as a leading cosmetic dentist by topDentists for more than 10 years. He enjoys working with senior patients and finds great satisfaction in helping them reverse the aesthetic and oral health issues that often afflict aged smiles. To learn more about Dr. Mohr and his services, contact our team at 516-541-7344.