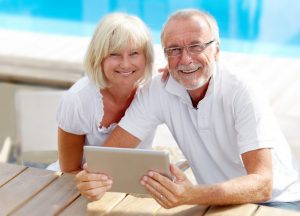 After doing a bit of research online, you've finally decided that dental implants are how you're going to replace your missing teeth. Everywhere you've looked, patients and dentists alike seem to have nothing but good things to say about them. However, you still have questions, and one's you won't be able to answer with a quick internet search. To make sure you have all the information you need to get the best Long Island dental implants, Dr. Allan S. Mohr is going to answer some of the most common implant questions he receives every day.
Am I a good candidate for dental implants?
Pretty much anyone with missing teeth can benefit from dental implants, but in order to be ready to begin the treatment, a patient needs three basic things:
Good dental health
Stable overall health
Enough healthy jawbone to support the implant roots
Lacking any one of these can potentially compromise the long-term success of an implant procedure. Fortunately, Dr. Mohr can help you address any issue with your dental health or jawbone himself. For an overall health issue, he'll suggest you consult your general doctor.
How long will my treatment take?
This answer is different for every patient depending on their individual situation. In general, the fewer implants you're having placed, the shorter the overall process will be. If a patient is getting multiple implants or requires preparatory procedures like a tooth extraction or bone graft, this can all add to the length of treatment time.
Overall, simpler cases can take as little as a couple of months, while more complicated ones can take closer to a year. Where will you fall on this spectrum? Dr. Mohr can let you know when you come in to see him for a consultation.
Who will place my dental implants?
You've likely read that at some practices, the dentist will perform the surgical placement of implants as well as attach the new teeth to them, while others refer their patients to an outside oral surgeon for placement.
In order to ensure that his implant patients receive the highest level of care at all stages of treatment, Dr. Mohr works with a "dream team" of local oral surgeons. Why? Because they have literally placed thousands of implants over the course of their careers, and their unique expertise is a big reason why his implants have an impressive 98% success rate. They enable Dr. Mohr to restore implants with the confidence that they'll last for a lifetime.
How long will my recovery be?
Once again, this really depends on your particular situation. After placement, some patients may only need a few weeks to heal, while others will require several months. Dr. Mohr can give you a more definitive answer when you come to see him for a consultation.
How much will my dental implants cost?
Because implants are able to help patients with varying degrees of tooth loss, the overall cost of the procedure can be quite different from patient to patient. Factors such as how many teeth a patient wants to be replaced, where they are located in the mouth, and what kind of restoration is used can all influence the final cost. Dr. Mohr can give you a concrete price after he has a chance to examine your mouth and take some X-rays.
It's important to note that in most cases, implants tend to be the better long-term investment simply because they are so much more durable than other replacement options. Traditional bridges and dentures typically need to be completely redone every 7-10 years, while implants can easily last for 30 or more. They are often a onetime cost for patients, saving them thousands in periodic maintenance and retreatment over the years.
Have more questions?
As you can see, to get the complete answers you need to these questions, it's best to go ahead and schedule a consultation with Dr. Mohr. After a quick exam, he'll be able to tell you everything you need to know about your implant options so you can make a well-informed decision and rebuild your smile with peace of mind.
To schedule an appointment, contact us today.