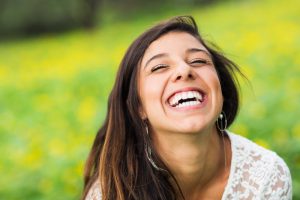 No matter how small they are, having gaps in your front teeth can affect the way you feel about your smile in a big way — and may even leave you hiding it when you might otherwise be laughing or grinning wide. But did you know there's an easy solution for minor gaps and other imperfections? Your cosmetic dentist in Long Island can help with beautiful porcelain veneers. Keep reading to learn more about this treatment and how it can transform your smile.
How Do Porcelain Veneers Work for Front Teeth Gaps?
Porcelain veneers are thin shells of porcelain that can be affixed to the front side of the teeth that show when you smile. They do not actually fix any issues — rather, they work by simply covering up imperfections. Veneers are placed over the course of two visits to the dentist and can last for up to 20 years with proper care.
When they are used to mask the appearance of minor gaps between teeth, veneers have an instant orthodontic effect. Many gaps can be hidden with veneers, but more significant spacing or severe dental misalignments should still be treated with conventional orthodontics (i.e. braces or Invisalign).
Are Porcelain Veneers Customizable?
There is no one-size-fits-all in cosmetic dentistry, and one of the best things about porcelain veneers is that they are highly customizable to match your unique coloring and facial structure. Plus, your cosmetic dentist can even create tiny imperfections to give your smile a really genuine (but dazzlingly beautiful) look. Because few people actually want a T-shirt-white smile! During a cosmetic consultation, you and your dentist will discuss your smile goals and put together a plan to ensure that you get the results you really want.
Am I a Candidate for Porcelain Veneers?
Most adults who are in good oral health are eligible candidates for porcelain veneers. Sometimes, severe teeth grinding (bruxism) or periodontal (gum) disease can interfere with the success of a cosmetic procedure. The only way to find out for sure whether this treatment can be used to mask the appearance of gaps between your teeth is to schedule a cosmetic consultation with your dentist. If your alignment issues are more significant than can be treated with veneers, you can also discuss your options in orthodontia.
Having gaps in your front teeth can feel like a serious drag — but your cosmetic dentist can help you cover them up with beautiful porcelain veneers! Act now to find out more about this treatment and whether or not it's the solution you have been hoping for.
Meet the Dentist
Dr. Allan S. Mohr is a true leader in the field of cosmetic dentistry, having practiced for decades and also lectured extensively on the topic. If you are interested in learning more about how veneers could be a wonderful alternative to braces for gaps in the front teeth, don't wait to contact Dr. Mohr at his office by calling (516) 541-7344 today.