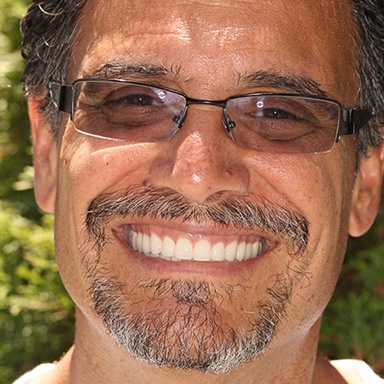 If you're interested in seriously improving the appearance and function of your teeth, you'll probably find two distinct terms popping up a lot as you do research online: smile makeover and full-mouth reconstruction. Both involve using multiple procedures to fix a wide array of dental issues, so are they one in the same? While these terms are swapped all the time, they are in fact VERY different. When it comes to full-mouth reconstructions and smile makeovers on Long Island, knowing which one is right for you will make a BIG difference in your experience and outcome.
What is a Smile Makeover?
A smile makeover is a unique treatment plan designed for a patient that is specifically intended to remove cosmetic flaws and drastically enhance the overall look of the smile. They're often used to take care of stains, chips, cracks, and large gaps.
While every makeover is different depending on the specific needs and goals of a patient, they most commonly include procedures like porcelain veneers, teeth whitening, and gum recontouring.
What is a Full-Mouth Reconstruction?
A full-mouth reconstruction is also a personalized treatment plan that can help patients dealing with several dental problems at once, but instead of focusing on aesthetics, reconstructions are primarily used to fix any health or functional issues within the teeth or bite. Problems like cavities, broken teeth, missing teeth, and crooked bites can all be addressed by a full-mouth reconstruction. They are typically recommended for a patient who hasn't been to the dentist in a long time or has just suffered a traumatic accident where several teeth were damaged or lost. For this treatment, procedures like crowns, fillings, and dental implants are frequently utilized.
How They Compare
While it's easy to see that a makeover's primary goal is better aesthetics while a reconstruction's is better function, they also greatly differ when it comes to scope. A smile makeover may require just one tooth to be changed in some cases, while a full-mouth reconstruction almost always involves several teeth and is also concerned with how they fit together. It's the same difference between getting Botox to eliminate some minor facial wrinkles as opposed to reconstructive plastic surgery. Both improve the appearance of the face, but in very different ways.
Which One Should You Get?
No matter which procedure you think might be best for you, you definitely need to partner with a very experienced dentist. When doing your research, don't just look at how long a dentist has been practicing, but see what kind of continuing education they have completed as well. If it's obvious that they are dedicated to self-improvement, you'll know they are more than qualified to handle a potentially complicated treatment plan. It's also wise to look at any pictures they have of previously completed cases.
Once you find a dentist that you like, be sure to share what you want to change about your teeth with them, and they'll be able to make recommendations. With the right dentist, whether you opt for a makeover or reconstruction, you're bound to achieve a healthy, beautiful smile you'll want to show off for years to come.
About the Author
Dr. Allan S. Mohr has been practicing on Long Island since 1986, and today, he is one of the most respected cosmetic and restorative dentists in the country. Every year, he completes dozens of hours of continuing education and is constantly doing research on how to improve his skills and upgrade the technology in his practice. Whether you need a smile makeover or full-mouth reconstruction, he's ready to provide the fully tailored care that you deserve in a friendly, welcoming office. To learn more about your options and schedule a one-on-one consultation, he can be contacted through his website.