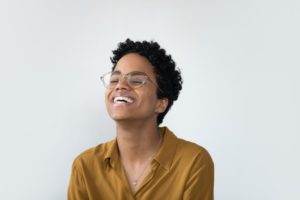 Beauty is in the eye of the beholder is an old saying that basically means, "Everyone likes different things," but when it comes to smiles, the standards of an attractive one are pretty universal across all cultures. That's why whenever you watch a movie, no matter where it was made, everyone (except maybe the villains) has gorgeous teeth. If you're unsatisfied with your smile but don't know exactly what needs to change, be sure to bring up these 5 traits with your cosmetic dentist in Massapequa—they'll quickly reveal how you can achieve your ideal look.
1. Tooth Color
Teeth whitening is by far one of the most popular dental services in the world, and it's no wonder why. While perfectly white teeth are associated with youth, health, and cleanliness, any other shade is often linked with the opposite. If your smile has a yellowish or brownish tint for any reason, simply lightening it will do wonders for your appearance, and it's relatively easy to do with a dentist!
2. Gum Color
While your smile should show a minimal amount of gum tissue (more on this below), its color, just like your teeth, has a big influence on your smile. In essence, pink gums are like white teeth, in that they look healthy and appealing. But red, irritated gums stand out for all the wrong reasons, plus they can change how people perceive the color of your teeth.
3. "The Ratio"
The "perfect" smile for each person comes down to a ratio between their teeth, gums, and lips. When each part is balanced (the top six teeth framed by the lips that shows only the thinnest sliver of the gums), the smile is wide and bright, but too much or too little of each portion can cause something to look "off" or unbalanced. Thankfully, cosmetic dentists are very adept at finding and achieving the right ratio for each patient so that everything locks into place with every grin.
4. The Bite
An overbite, underbite, open bite, or crossbite is easy to spot. Not only does a misaligned bite affect the smile, but it can also hamper someone's ability to chew and speak comfortably as well as lead to accelerated tooth wear and jaw pain. Most of the time, they can be corrected with orthodontics, which will not only improve the smile itself, but enhance the entire face at the same time.
5. Spacing
Of course, crooked, crowded, or gapped teeth will instantly stick out when someone smiles, but these can thankfully be fixed with orthodontics as well. Sometimes even veneers can help slightly misaligned teeth look straighter, which is why they are often called "instant orthodontics."
So, the next time you look at your smile in the mirror, zero in on each of these qualities. Which ones are fine as is, and which ones could use a little help? This will provide some clarity in your own mind and help you give better direction to your cosmetic dentist—though you can trust that they will be looking at much more than these when you go see them! By improving one or all of these traits, you can easily get a smile that's worthy of the silver screen.
About the Author
Dr. Allan Mohr is an award-winning cosmetic dentist who has served the Massapequa area for more than three decades. As a leading provider of veneers, whitening, and dental implants, he knows how to help patients achieve their ideal smiles as efficiently as possible. If you're unhappy with the color, shape, or positioning of your teeth, Dr. Mohr is eager to help, and you can learn more by contacting him today.