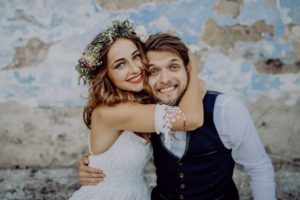 An important day is quickly coming up, and you want everything to be absolutely perfect, including your smile. Whether it's a wedding, job interview, date, or big presentation at work, teeth whitening offers one of the simplest and most effective ways to boost your appearance and confidence at the same time. But when should you get it done? The day before? A few weeks or months ahead of time? What is the wisest approach?
The Spectrum of Whitening
Like everything else these days, you have a lot of choices when it comes to teeth whitening methods, but they all fall into three basic categories:
Store-Bought Methods: These include whitening toothpastes, strips, gels, and take-home kits.
Professional In-Office Whitening: With this, the entire whitening process is started and finished over the course of a single trip to the dentist which takes less than an hour.
Professional Take-Home Whitening: These kits include higher-quality trays and a bleaching gel that is several times stronger than anything you'll find on store shelves.
If you're hoping to achieve a dramatic result that your future spouse, potential employer, or colleagues will appreciate, you can basically forget about the store-bought methods—they are woefully underpowered. So between the two professional options, which one should you choose, and more importantly, when should you get it?
The Timeline for Perfect Teeth Whitening
Conceptually, you could get professional in-office teeth whitening the literal day before your event, but this isn't recommended. Why? Not only is the time really tight (and obstacles that come up at the last minute can get in the way), but your teeth might be a little sensitive afterward. Ideally, it's best to schedule the appointment and get the treatment about a week beforehand. That way, by the time the day arrives, you'll look and feel your best.
With take-home professional whitening, the process typically requires daily use of the kit for about two weeks to see the full results. So, in order to give yourself a buffer in case you want to whiten more after this period of time, it's best to start the process about three weeks out. The trade-off is that while this requires more time compared to in-office whitening, it's more flexible, and you can simply use the kit until you reach your ideal shade and stop.
Ask an Expert
Of course, there are countless individual factors that could impact your teeth whitening timeline. What color are your teeth right now? Do you have any pre-existing dental issues? The best thing to do is to simply ask an expert—a cosmetic dentist—about what you should do. They have likely helped thousands of patients in your exact situation, and they'll be able to point you in the right direction so you have one less thing to worry about. Then, by the time the moment arrives, the last thing you'll have to worry about is your teeth.
About the Author
Dr. Allan Mohr is a widely respected cosmetic dentist who has been practicing in the Massapequa Park area for 35+ years. Getting amazing results with teeth whitening is one of his specialties, and he offers Kor Whitening, Zoom! Whitening, and take-home whitening so patients can find the perfect solution for their situation. He even has a whitening special for grooms and brides-to-be! To learn more and get in touch with his office for questions, click here.