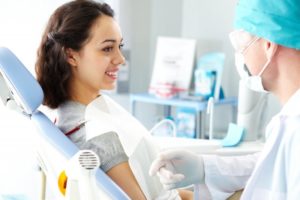 More and more people are choosing to enhance their smiles with cosmetic dentistry, which means a growing portion of the population is asking the question, "What exactly is a cosmetic dentist?" Unlike orthodontists, pediatric dentists, or prosthodontists, being a cosmetic dentist is not a recognized specialty in the dental world. Essentially, any dentist can call themselves a cosmetic dentist. However, there is a big difference between a trained and experienced cosmetic dentist versus a general dentist that offers cosmetic services. What are they, and why do they matter? Read on below before you find yourself in the treatment chair!
General Dentistry vs. Cosmetic Dentistry
Every dentist essentially has three broad skills: they can protect the teeth from problems, fix problems that have developed, and improve the smile's appearance. In the dental world, these skills are referred to as preventive dentistry, restorative dentistry, and cosmetic dentistry.
Right out of dental school, every dentist has completed thousands of hours of training dedicated to performing preventive and restorative procedures, but not so much for cosmetic services. That's because the primary focus of dentistry (as well as any other medical field) is a patient's health. So, while a general dentist has some cosmetic experience, they are severely lacking compared to a true cosmetic dentist. So, this brings us back to the question above…what is a cosmetic dentist?
What Makes a Cosmetic Dentist
In short, a cosmetic dentist isn't just a general dentist that offers cosmetic services, but rather, it's a dentist that has dedicated a lot of time and training specifically toward learning how to improve the aesthetics of the smile. Cosmetic dentistry is its own field and requires a lot of effort to truly master. While a general dentist can certainly give you veneers, only a highly-trained cosmetic dentist can give you veneers that look natural, boost your appearance, fit comfortably, and can be trusted to last for decades.
How to Find a True Cosmetic Dentist
How can you tell the difference between a general dentist and cosmetic dentist? Thanks to the internet, this is relatively simple. All you need to do is type "cosmetic dentist" into the search bar, and you'll be greeted by thousands of results. BUT, you need to take an additional step—look at the bios of the dentists you're considering.
You don't need to read every word of every bio. Instead, look for cosmetic specialty training the dentist has completed, and see if they are part of any cosmetic professional organizations, like the American Academy of Cosmetic Dentistry. If they are, this will be easy to see…cosmetic dentists aren't shy! But, if you don't see any mention of cosmetic dentistry in the bio, then it's safe to assume that the dentist's experience is limited.
Plus, try to find a "Smile Gallery" on the dentist's website that shows off real-life before and after cases…this will let you see their work for yourself.
Your smile is one of the most important aspects of your appearance, and if you're going to change it, it should only be done by the most highly qualified professional. By taking the time to choose the right dentist, you can trust that your end result will look great and boost your confidence into the stratosphere.
About the Author
Dr. Allan Mohr is an award-winning cosmetic dentist who has been serving Massapequa Park for over 30 years. He is a member of the American Academy of Cosmetic Dentistry, American Society of Dental Aesthetics, and is an in-demand speaker and educator in the field of cosmetic dentistry. His qualifications speak for themselves, as do the beautiful smiles he has provided for countless patients. To see a few of them for yourself, you'll find his Smile Gallery here. To learn more about your treatment options and how Dr. Mohr can give you the smile you've always wanted, schedule a consultation today.