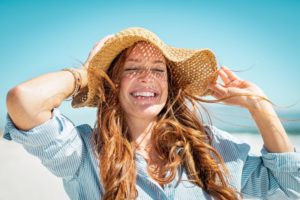 COVID cases are on the decline, the world is opening up, and everything is coming together just in time for a great summer. Before your social calendar fills up, now is the perfect time to get teeth whitening on Long Island. Why? Here are 3 reasons to schedule a quick trip to your cosmetic dentist so they can give you a brighter smile.
With Fun Comes Cameras
Many friends and family members are going to meet up this summer after not seeing one another for a year or more, so it's almost guaranteed that someone will be snapping pictures left and right. To ensure you feel confident and look great at every angle, one of the simplest and most effective ways to boost your appearance is with teeth whitening.
Weddings
The summer is prime wedding season, and of course, with weddings, comes countless pictures that the couple will show off for decades. Teeth whitening can help you look great on the day of the ceremony and feel at ease whenever you see the photographer snap a few shots of you busting out your best (or only) dance moves.
Vacation Time
In the coming months, it's expected that there will be an explosion of travel as people become more comfortable leaving their home, their state, and even their country to take a fun trip with friends and family. If you have an adventure planned in the near future, you'll most likely want to document it with pictures, in which case having a dazzling smile will enable you to look at the photos and remember the vacation fondly.
Find the Option That is Right For You
Thankfully, when it comes to teeth whitening, your cosmetic dentist doesn't offer a one-size-fits-all solution. Instead, you can choose among 3 popular options depending on which one suits you best:
Zoom!: Combining a potent bleaching gel with a special UV light, this treatment can quickly eliminate years of stains in a single appointment to make your teeth 6-8 shades lighter.
KOR Whitening: This uses a specially formulated bleaching gel, in-office treatment, and take-home kit that work together to eliminate deep stains that most other methods leave behind, leading to a dramatic result you can trust to last.
Professional Take-Home Whitening: Your cosmetic dentist can give you custom-made mouth trays and a whitening solution that is several times stronger than anything you'll find on store shelves, allowing you to brighten your smile on your schedule so you can achieve the ideal shade in complete comfort.
Can't decide? You don't have to! Your cosmetic dentist on Long Island can take a quick look at your teeth, ask you about your goals, and point you in the right direction so that you get the stunning, confident smile you deserve just in time for summer.
About the Author
Dr. Allan Mohr is a cosmetic dentist on Long Island based in Massapequa that has been practicing in the area for over 30 years. He is considered to be one of the leading experts in the country when it comes to cosmetic dentistry, and he has used all of the teeth whitening treatments mentioned above to achieve some truly stellar results, a few examples of which you'll find here. To schedule a FREE consultation to learn more about what he could do for you, click here.