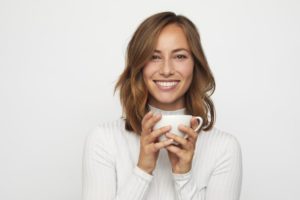 Hundreds of patients come to Smile Creations every year hoping to makeover their smiles, and for many, the results they want can be easily achieved with veneers. However, what often surprises people is that you don't just get veneers—patients are fitted with a temporary set for about a week or so before their permanent ones are put into place. Why is this step necessary? Wouldn't it be easier to just place the regular veneers? In truth, temporary veneers on Long Island serve a lot of purposes and are essential to helping a patient get exactly what they want. How? That's what we're covering in today's blog.
Take a Test Drive
Before you buy a new car, you take it for a test drive, right? Temporary veneers essentially give you the opportunity to do this for your new smile. After talking with Dr. Mohr about your goals, he'll prepare your teeth to be fitted with veneers, take a mold, and then attach the temporaries. This will give you a chance to see how the veneers look and feel so adjustments can be easily made before your permanent ones are bonded into place. Whether you want your veneers to be whiter, smaller, larger, or differently shaped, temporary veneers allow you and Dr. Mohr to get everything perfect.
Phonetics
Your teeth have a lot of influence on how you speak. Even a single missing or misaligned tooth can cause someone to develop a speech impediment like a lisp or make certain syllables almost impossible to say clearly. With temporary veneers, you can make sure the prosthetics don't interfere with your speech. If any changes need to be made, altering the temporary veneers is easy, and the same modifications can be applied to your final veneers.
Your Bite
The alignment of your bite is extremely important for your dental and overall health. If the teeth do not come together correctly, this can cause your jaw muscles to overwork and strain themselves, leading to unpleasant symptoms such as teeth grinding, jaw pain, and headaches/migraines. Dr. Mohr will do everything he can to ensure your temporary veneers fit as comfortably as possible, but if there is even the slightest issue with your bite, he can make corrections and do the same for your final veneers so you avoid bigger issues down the road.
A Strong Start
Veneers are intended to last for 15-20 years, so taking a little time at the start to ensure they're perfect is always a good idea. If you're considering getting veneers, just know that your temporaries will help Dr. Mohr give you a smile that you'll love for decades to come.
About Dr. Allan S. Mohr
Dr. Allan Mohr is an award-winning cosmetic dentist in Massapequa who has been serving the community for over 30 years. He is considered a leading expert in the field of aesthetic dentistry, and he has helped countless people achieve the smiles of their dreams using veneers. To learn more about the procedure and your other cosmetic options at Smile Creations, contact us today to schedule a FREE smile makeover consultation.