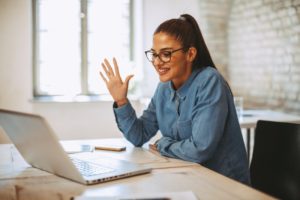 Due to the COVID-19 pandemic, millions of people around the country are currently looking for work, and if this includes you, then you probably want every advantage available for the job hunt. Thankfully, a cosmetic dentist in Massapequa knows exactly how to help you stand out from the pack. While updating your resume and learning new skills are always good ideas, a literal mountain of research shows that your smile can have a big impact on your professional success. Here are just a few ways an attractive, healthy set of teeth can help you nail your next job interview.
Confidence
As the old saying goes, "If you have enough confidence, you can do pretty much anything." It's important to come off as confident during a job interview so an employer trusts that you'll take the initiative in your new position. The last thing any company wants is a new person they have to babysit! Of course, one of the easiest ways to demonstrate confidence is to simply smile. Hundreds of studies have shown that people with beautiful, white teeth tend to make a more positive impression and are perceived to be friendlier and more competent than interviewees who stay tight-lipped (even if their qualifications are the same).
Vitality
People are constantly assessing the health of one another to see if a person might have a communicable disease, and often, one of the key indicators people look at, subconsciously, is the condition of the teeth. An employer won't hire someone who they think is going to miss a lot of days due to health reasons, and many consider missing or clearly damaged teeth to be a red flag. On the other hand, a radiant smile signals to an employer that a person is healthy, strong, and can be relied on in the long-term.
Intelligence
With a quick search online, you'll find study after study showing that people with straight, bright teeth tend to be judged as more intelligent than those with less than perfect smiles. This phenomenon often pops up in TV and movies as well, where a lot of supposedly "dumb" characters tend to have deeply stained and missing teeth, while the heroes usually have picture-perfect smiles. A stunning smile can make an employer automatically think that the person they are talking to is smart, which can be tremendously beneficial when competing with dozens of other applicants.
How Cosmetic Dentistry Can Help
While it's nice to know that a smile can help someone land a job interview, this all might be bad news if you have less than perfect teeth with obvious flaws. Thankfully, you can make stains, chips, cracks, and gaps practically disappear with cosmetic dentistry. Don't think of enhancing your smile as just an investment in your appearance, but an investment in your future success as well. Your new smile will ensure you make the right first impression with everyone you speak to, and before you know it, you'll be hearing those magic words, "You're hired!" Before you send out another resume, one of the best things you can do is schedule a consultation with a cosmetic dentist…your future self will thank you.
About the Author
Dr. Allan Mohr has been practicing cosmetic dentistry on Long Island for more than 30 years, and he is widely considered to be one of the country's leading experts in the field of aesthetic dentistry. If you'd like to spruce up your smile before your next interview, he can help you achieve amazing results without sacrificing your budget in the process. To schedule a FREE smile makeover consultation to get started, click here.