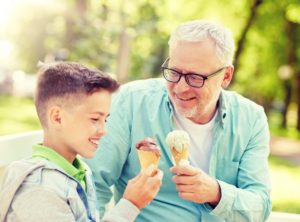 It looks like it's going to be another hot, record-breaking summer this year, which means it's the perfect time to stay indoors, crank up the fan, and just relax. While lounging around is its own reward, you can make the most of this season by doing something about your tooth loss at the same time: getting dental implants. Typically, the process takes a few months to complete from start to finish, and summer is the perfect time to get started. Here's why.
1. It's Too Hot to Go Outside Anyway
With dental implants, small titanium posts are placed into the jawbone during a minor surgery, and over the next four to six months, the mouth heals while the surrounding bone grows around the new roots. This is what makes implants extremely secure. It's recommended that the patient take it easy during the initial phase of recovery, so why not do it when you're stuck indoors escaping from the sun anyway?
2. You Can Still Enjoy Summer Treats
In your mind, when you think about summer, which foods do you imagine? For most people, it's sweet items like ice cream, popsicles, and shaved ice. Fortunately, even while you're recovering from dental implant placement, you can still enjoy these treats without worry. In fact, the slight numbing from their coldness might feel really nice!
3. Ready in Time for the Holidays
If you start dental implants now, by the time the holidays roll around, your new strong and beautiful teeth will be ready. That means you'll be able to feel completely confident during all the gatherings, parties, and inevitable pictures that occur during the late part of the year. Even better, you can eat all of your holiday favorites without worry. From cooked meats to hearty sides and luscious desserts, your dental implants will be up to the task so that the last thing you have to think about is your teeth.
While getting dental implants does take a little while, they are more than worth the investment, as they are proven to look more natural and be more secure than regular dentures and can easily last for 30+ years. While you're recharging this summer, do your future self a favor by reaching out to an implant dentist. You'll be so happy you did by the time fall and winter roll around.
About the Author
Dr. Allan Mohr is an implant and cosmetic dentist who has been practicing in the Massapequa Park area for over 35 years. Along with his "dream team" of specialists, he has helped countless patients rediscover their smiles using dental implants, and he's eager to do the same for you this summer. To learn more about the process and take the first step, you can schedule a consultation by clicking here.