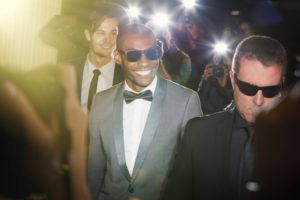 No matter what kinds of movies and TV shows you like, it's almost guaranteed that everyone on screen will have gorgeous, perfectly white teeth. This is largely thanks to cosmetic dentistry. If you wish your teeth were just as camera-ready as your favorite celebrities, know that you don't have to be a famous movie star, singer, or model to get the exact same treatments that are popular in Hollywood today. Don't believe it? Read on as we dispel some of the most common myths associated with cosmetic dentistry.
"Cosmetic Dentistry is Extremely Expensive."
Only celebrities can get cosmetic dentistry because it's unaffordable to everyone else, right? Not true! While cosmetic dentistry typically isn't covered by dental insurance, most dental practices offer financing options that allow patients to break up the cost of veneers, whitening, or any other procedure they want into small, monthly payments, often with little to no interest. Plus, small fixes that correct minor flaws probably cost less than you think!
"Cosmetic Dentistry Only Benefits People Who Are On Camera All the Time."
Even if you're not a celebrity whose smile is viewed millions of times a day, improving its appearance can still have a big effect on both your personal and professional life. Feeling great about your teeth can make it easier to open up socially, and if your job involves talking to people, having attractive teeth is scientifically proven to make others view you as more professional and intelligent.
"I Have to Visit the Same Dentist as Celebrities to Get Similar Results."
Most celebrities are treated by a relatively small handful of dentists, so many people believe that this select group are the only professionals that can deliver spectacular results. Thankfully, this isn't the case. As long as a dentist has experience providing cosmetic dentistry and regularly receives continuing education and training focused on dental aesthetics, you can trust them to beautifully transform your smile using the same treatments sought out by the stars.
Get Your Own Red-Carpet Ready Smile
Top-quality cosmetic dentistry is more accessible and affordable than ever, and enhancing your teeth can provide a laundry list of benefits even if you don't have a blockbuster film or album coming out this summer. You deserve to feel great about your smile, and the right dentist who can provide exactly what you want is probably closer than you might think. With cosmetic dentistry on Long Island, you can look and feel like a star even if you aren't one!
About the Author
Dr. Allan Mohr is a cosmetic dentist who has been practicing on Long Island for over 30 years. He has helped countless patients transform their teeth for the better using the same treatments as celebrities. To see examples of his work, you'll find his smile gallery here, and to learn more about what he could do for you, you can request an appointment by clicking here.