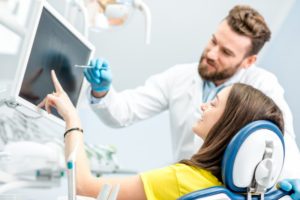 It's the beginning of a new year, and a lot of people are thinking about making some changes. So, many will find themselves talking to a cosmetic dentist about how they can improve the appearance of their smile to make them feel more attractive and confident. Choosing to do anything that will alter your teeth is a big decision, and you should feel assured about whatever procedure you choose. To guarantee this happens, here are four questions you should ask your cosmetic dentist when you come in for a consultation.
Question 1: What are my options?
If you've done a little research online, then you likely know that some of the most popular cosmetic dental treatments include things like veneers, teeth whitening, and porcelain crowns. So the first question you need to ask your dentist is a basic one, "Which procedure will get me closest to my goal?" This will allow them to outline your treatment plan and touch on the specific details of the procedure(s) that you'll actually get.
Question 2: Are my expectations realistic?
Many people walk into a cosmetic dentist's office with a picture of their favorite celebrity smile and simply say, "Make mine look like that." While a dentist can definitely make your teeth white, straight, and symmetrical just like your favorite star, they might not be able to copy it exactly simply because a celebrity's teeth may not work with your face shape. Be sure to make your expectations clear on what you hope to change and have the dentist clarify if what you're asking for is realistic. Better to find out now than after you've paid for treatment!
Question 3: How long will my treatment take?
Some smile makeovers can be completed in just one or two appointments, while others may require several visits over the course of a few weeks. It all depends on the starting condition of your teeth and what kinds of changes you want to make. Outlining this detail will not only help you get everything scheduled, but also make sure you know what to expect.
Question 4: How much will it cost?
Of course, finances are always important when it comes to dentistry, especially when talking about cosmetic work because it often isn't covered by dental insurance. Asking this will not only give you a firm number, but it will also open the conversation up to subjects like financing options. In most cases, you don't have to pay for everything all at once—it can be spaced out so your treatment fits more comfortably into your budget.
If you have other questions you need to be answered beyond these four, be sure to ask them! After your consultation, you should feel like you know everything you need to decide on the future of your smile. This will ensure that your makeover starts on the right foot and is smooth sailing the whole time.
About the Author
For more than three decades, Dr. Allan Mohr has provided award-winning cosmetic dentistry to the Massapequa area and beyond. He has helped thousands of patients achieve their ideal look with whitening, veneers, porcelain crowns, and many other aesthetically focused dental treatments, and he's eager to do the same for you. To learn about everything he has to offer and take a step closer to your perfect smile, contact him today to schedule a consultation.