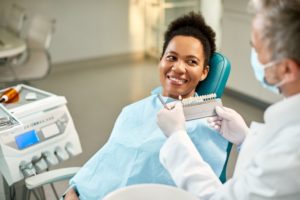 Millions of people are unhappy with the appearance of their smile for one reason or another, but fortunately, a huge portion of them can easily make the changes they want with veneers. This one treatment can cover stains, fix chips and cracks, close spaces, and even make slightly crooked teeth appear straighter. But what is it like to actually get them? Will the final result be worth the process? You can decide for yourself as we show you what it's like to get veneers step-by-step.
Step 1: Consultation
The first thing you'll need to do is sit down with your cosmetic dentist of choice and discuss what changes you would like to make to your teeth. If you want to be extra prepared for this meeting, try bringing in pictures of smiles that you consider to be perfect.
After giving you a quick exam to make sure you don't have any cavities or other lingering dental issues, you and your dentist will talk about the best ways to achieve the results you desire. If you both decide that veneers are the way to go, you'll progress to the next step.
Step 2: Planning
Your dentist will take several pictures and digital scans of your teeth and use them to create a mock-up of your new smile. This could be done using a digital image or even a wax mock-up. The main point is to let you look into the future and make sure you and your dentist have the same goal in mind. When you're satisfied with what you see, it's on to the next step!
Step 3: Preparation
To make sure your veneers don't look too bulky, your dentist will remove a thin sliver of enamel from each of the teeth that will be covered. The amount is typically about the thickness of a contact lens, but this will ensure a natural-looking result. They'll then take impressions of your teeth, and these along with the design of your veneers will be sent to a dental lab. You'll be fitted for temporary veneers while you wait for your permanent ones, which should be ready in about two weeks.
Step 4: The Finish Line
You'll return to your dentist's office when your veneers are ready, and they will remove your temporaries and put on your final ones. After they've made any minor adjustments and checked your bite, your new smile will be ready for the world!
Normally, this entire process unfolds over the course of two to three appointments spaced a few weeks apart. That's a relatively small amount of time compared to the decades that veneers are expected to last. If you're ready to get started or have any other questions about this treatment, just reach out to a cosmetic dentist, and they will ensure you have plenty of reasons to look forward to the future.
About the Author
For more than three decades, Dr. Allan Mohr has provided award-winning cosmetic dentistry to the Massapequa Park area and beyond. He has helped thousands of patients achieve their ideal look with whitening, veneers, porcelain crowns, and many other aesthetically focused dental treatments, and he's eager to do the same for you. To learn more about everything he has to offer and take a step closer to your perfect smile, contact him today to schedule a FREE veneers consultation.