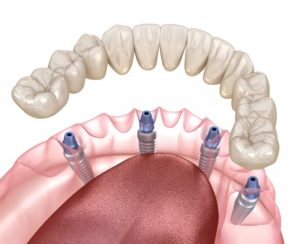 Dentists and patients alike tout dental implants as the best way to replace missing teeth. Still, the treatment can be a little confusing because there are so many different terms that refer to various aspects of dental implant tooth replacement. One of those terms is "All-on-4 dental implants" in Massapequa Park. In this post, you'll learn exactly what All-on-4 implants are and how they might be able to help you regain a healthy, strong, and beautiful smile.
The All-on-4 Procedure
All-on-4 dental implants are sometimes called Teeth in a Day because you can come to the office without any teeth in one of your dental arches and leave with a beautiful new prosthetic smile — all in a single appointment! Of course, not every part of the process take place in a single day. From beginning to end, the entire treatment may take a few months. Here's a basic overview of how All-on-4 works:
You attend a consultation to determine your candidacy for the procedure. If you are a candidate, your dentist designs your treatment plan.
You undergo a surgery wherein any remaining natural teeth are extracted, 4 – 6 dental implants are placed at strategic locations in the jawbone, and a provisional (temporary) denture is attached to the implants.
After you heal from the surgery, you receive a custom-made permanent set of prosthetic teeth. When you choose a skilled cosmetic and restorative dentist to design your All-on-4 denture, you can be confident that your new smile will look and feel amazing.
Candidates for All-on-4 Dental Implants
The All-on-4 treatment is usually reserved for patients who have lost all or most of their teeth throughout an arch. Because of the strategic placement of the implants, even patients who have already lose some bone density in their jaw (and who cannot receive traditional implants) may be candidates for it. When you schedule your implant consultation, your dentist will carefully determine whether All-on-4 is a fit for your circumstances.
Benefits of All-on-4
Some of the most outstanding benefits of the All-on-4 dental implant procedure include:
You can enjoy an attractive new smile in a short amount of time. A skilled implant dentist will carefully ensure that the size, shape, and color of your prosthetic teeth will complement your mouth and your natural facial aesthetics.
The surgery is less invasive than traditional implant methods and therefore comes with a shorter recovery time.
An All-on-4 denture is much sturdier than a traditional denture.
All-on-4 prosthetic teeth provide a strong bite force that can stand up to virtually any food.
All-on-4 dental implants have proven to be a life-changing procedure for many patients. Perhaps they could change your life as well! Your local cosmetic and restorative dentist would be happy to help you learn more about this remarkable treatment.
About the Author
Dr. Allan S. Mohr has nearly 40 years of experience, and he is recognized as one of the nation's top cosmetic dentists. He is widely known for his passion for continuing education and the outstanding results that he produces for the patients who entrust their oral health to him. He partners with top-tier local specialists to ensure that each dental implant case leads to an optimal outcome. To learn more about Dr. Mohr or All-on-4 dental implant treatment, contact our team at 516-541-7344.