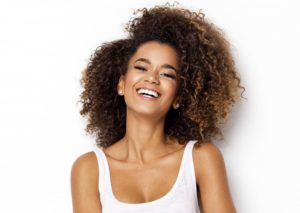 For decades, veneers have been one of the most popular cosmetic treatments, whether you're talking about dentistry or not. That's because they offer a reliable and easy way to enhance the appearance of stained, chipped, cracked, and gapped teeth. While the list of benefits is very long (and we'll touch on some of them below), as with any type of dental procedure, there are potential downsides that a patient should be aware of before beginning treatment. Are veneers on Long Island exactly what your smile needs to look and feel its best? Read on to learn more.
The Benefits of Veneers
A dental veneer is a thin covering, often made of porcelain, that is placed over the front of a tooth in order to improve its shape, size, and color at the same time. Why do most actors, models, and singers get them to take their smile to the next level? Because they are:
Customizable: Veneers can be designed down to the smallest detail to create a patient's ideal look. They don't just give someone a beautiful smile, but their idea of a beautiful smile so their result is unique as well as eye-catching.
Versatile: Almost any cosmetic flaw can be corrected with veneers, ranging from stains that don't respond to bleaching to visible damage to even slight misalignments. They can even correct multiple imperfections at the same time.
Convenient: Typically, the veneer process can be completed in just two appointments.
Comprehensive: With veneers, a patient can change just one tooth or their entire smile to achieve a dramatic makeover, all without having to undergo multiple treatments.
Durable: With minimal maintenance, veneers have been shown to last for about 15-20 years, which is much longer compared to other cosmetic treatments (like whitening or bonding).
The Cons of Veneers
Some of the reasons why a patient may choose to get a treatment other than veneers include:
Cost: There is no way around it—veneers can be very expensive, particularly if you are getting them to cover all of the teeth that show when you smile. This is due to the material and the time and skill needed to design/fabricate them. Thankfully, most dental practices offer financing as a way to break up the cost.
Permanence: For veneers to fit comfortably and look natural, a small amount of enamel has to be removed. This makes the treatment irreversible, meaning a patient will always need veneers to have the smile they want.
Sensitivity: Because of the enamel removal, teeth can sometimes become more sensitive to hot and cold foods and drinks after getting veneers. The porcelain usually isn't thick enough to prevent this.
Wear & Tear: Even if you take great care of your veneers, they can still develop cracks, chips, and stains over time. While a veneer can sometimes be repaired, they usually need to be replaced from time to time.
How to Decide
With all of this information in front of you, it can be tough to know whether you should go through with getting veneers or not, but thankfully, you don't have to decide on your own. A highly trained and experienced cosmetic dentist will help you make the right choice based on your particular goals, needs, and budget so you can enjoy peace of mind and achieve the smile you've always wanted. With the right dentist in your corner, whether veneers are a good fit for you or not, you'll enjoy beautiful, lasting results.
About the Author
Dr. Allan Mohr has over 30 years of experience as a cosmetic dentist on Long Island, and he has helped countless patients achieve gorgeous smiles with veneers. If you're considering getting some cosmetic dentistry, he would be more than happy to go over your options and help you select which approach best suits your situation. His practice is currently open for ALL procedures (you can learn about his COVID-19 safety protocols here), and you're invited to contact him today to schedule an appointment.