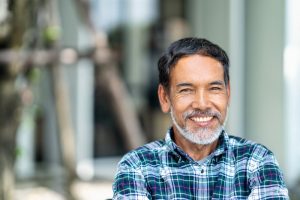 If you're missing several or all of your teeth, deciding to replace them was probably relatively easy, but what's more difficult is choosing how to actually do it. These days, the most popular options are partial dentures, full dentures, and implant-retained dentures. Each is used by countless dentists around the world to successfully rebuild their patients' smiles, but which one would be best for you? If you're considering getting dentures on Long Island, a little knowledge can help make your choice much simpler, which is exactly what you'll find below.
What are Partial Dentures?
For patients who still have some healthy teeth left, a partial denture can help close any gaps like the missing piece of a puzzle. This prosthetic consists of realistic-looking teeth attached to an acrylic, gum-colored base that is shaped to fit around the remaining teeth and fill in where it's needed. They are typically removable and held in place using small metal clasps that loop around nearby teeth.
What are Full Dentures?
When you think of the word "denture," a full denture is probably what pops into your head. These are used to restore an entire row of teeth and sit on top of the gums to do so. Natural suction and a little bit of denture adhesive help them stay in place, and they can dramatically improve a patient's ability to eat and speak as well as enhance their confidence by giving them a nice, full smile.
What are Implant-Retained Dentures?
Above the gum line, implant-retained dentures look just like their traditional removable counterparts, but the magic is found in what lies beneath. Instead of just sitting on top of the gums, implant-retained dentures are actually anchored to the jawbone using small titanium tooth roots. This not only makes the denture just as stable as real teeth, but the new roots also stimulate the jawbone and prevent bone loss, which helps the denture maintain its initial fit for much, much longer.
So…Which One is Best?
In truth, none of these options can be considered the best, because the right one really depends on the specific needs, wants, and concerns of a patient. When it comes to dentures, you basically have two main choices to make: partial or full, and do you want the denture to be implant-retained or not?
Your dentist can help you decide whether you need a partial or full denture based on the health of any teeth you have left, so that's relatively simple. As for dental implants, this is a more personal decision. Do you want a traditional removable prosthetic you can get relatively quickly, or do you want to take longer and get a result that looks and feels more like natural teeth? Implant-retained dentures tend to fit more securely, comfortably, and last much longer than regular ones, so if you're a qualified candidate for them (in that your jawbone is healthy enough to support the new roots), most dentists will highly recommend them. It's also important to note that with implants, both partial and full dentures don't need to be replaced or relined nearly as often, which helps a patient save quite a bit of money over time.
Regardless of which type of denture you end up choosing, the choice to replace your missing teeth is always a wise one. Just by reading this blog and getting more information, you're already one step closer to recovering your smile.
About the Author
Dr. Allan Mohr is a cosmetic, restorative, and implant dentist with over 30 years of experience serving the Long Island area. He takes great pride in providing custom-made prosthetics that look just as good as they feel, so if you're interested in replacing your missing teeth with a denture, he'd be more than happy to help you do it. To get answers to your questions and schedule an in-person consultation, click here.