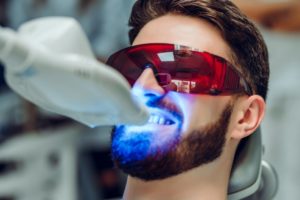 If you, like millions of other people around the world, want to brighten your smile, then you've likely done a little research about teeth whitening. While there are several methods to choose from, they basically break down into two main types: professional and store-bought teeth whitening. While store-bought kits might be cheaper and seem more convenient compared to visiting a dentist, if you want a truly sparkling grin, you should ALWAYS visit a professional. Why? Here are the top 3 reasons to only have your teeth whitened by a dentist.
1. Higher Quality Products
The active ingredient in most teeth whitening gels is either hydrogen peroxide or carbamide peroxide. If you look at store-bought kits, their gels usually contain about 1-2% of these substances, which means they can remove minor surface stains, but not much else. However, the products your dentist uses, which you can't buy on your own, typically have 15-20% of the active ingredient. This means professional whitening will not only remove surface stains, but also discoloration in the deeper part of the enamel that affects the shade of the smile.
2. Better Application
One of the most important factors when it comes to whitening the teeth is making sure that the gel is evenly distributed over the enamel. Otherwise, some teeth might appear brighter than others, or certain areas may not be whitened at all! Because store-bought kits have generically-sized mouth trays that are intended to fit a wide variety of people, it's easy for the gel to move around and not stay in the ideal position. A dentist will apply the gel themselves or give you custom-made mouth trays to ensure perfect coverage and even whitening, resulting in a beautifully uniform smile.
3. More Options
It's relatively common for someone to use a store-bought whitening kit and not be happy with their smile afterward, even if the product worked as promised. Why? Because whitening can only do so much to improve the appearance of the teeth. For patients with noticeable chips, cracks, or spaces, simply lightening their teeth will do nothing to solve these problems.
This is why it's always wise to talk to a cosmetic dentist before doing anything that will change the look of your smile. They can listen to your goals and point you toward a treatment that will help you achieve exactly what you want. While you might think you want whitening, maybe veneers or bonding would be more effective and make you happier. Most dentists can create mock-ups of what you'll look like after various procedures so you can compare and contrast to find what works best for you.
In the short term, store-bought whitening might seem like the better choice, but when it comes to the long-term appearance of your smile and how you feel about it, working with a cosmetic dentist will always lead to a better result, both right after treatment and for years to come.
About the Author
Dr. Allan Mohr is a cosmetic dentist on Long Island that has served Massapequa Park for over 30 years. Over the course of his career, he has taken over 2,000 hours of continuing education, earned multiple awards, and become one of the most well-respected leaders in the realm of cosmetic dentistry. He is able to achieve some truly amazing results with teeth whitening, and you can see a few examples here. To learn more about what he could do for your smile, click here to schedule a consultation.