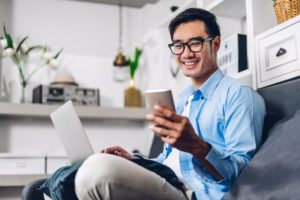 Many people walk into a cosmetic dentist's office excited to talk about the changes they want to make to their smile. But, they are surprised when the dentist says that their existing dental issues need to be taken care of first. Why can't they just make someone's smile look better and worry about cavities or gum disease later? Does the cosmetic work really have to wait? The short answer to this question is "Yes," and you will learn why in today's blog.
Why Oral Health Comes First
A house is only as reliable as its foundation, right? The rest could be made from the finest wood and brick available, but if the ground beneath the house is unstable, it is inevitably going to fail and cause a lot of (expensive) problems.
This is a good metaphor when it comes to oral health and cosmetic dental work. Whether someone receives whitening, porcelain veneers, cosmetic bonding, or any other aesthetically-focused treatment, the results will likely quickly disappear if underlying oral health issues are not addressed first.
That's because pretty much any cosmetic procedure requires healthy teeth to be successful and provide long-term changes. Untreated gum disease can cause even beautified teeth to loosen and fall out. Cavities can lead to pain and discoloration, and if they are treated after a tooth has been covered with a veneer or crown, this can make the process much more difficult and costly.
To deliver the best possible outcome for a procedure and ensure that a patient enjoys their new smile for as long as possible, a cosmetic dentist will always make sure that someone's teeth and gums are healthy first. This is not only good for your smile, but your wallet as well!
How This Approach Saves You Money
Basically, if cosmetic dental work is applied to an unhealthy smile, even a beautiful result will be short-lived, essentially meaning the patient has wasted their money and time. Cosmetic dentists never want their patients to experience this. Plus, in many cases, improving someone's oral health can resolve their aesthetic concerns at the same time, often for less money.
Treating a cavity can fix discoloration and prevent it from coming back in the future , and addressing gum disease can stop teeth from falling out, saving a patient from having to pay to get them replaced down the road. In essence, putting a patient's health first is the same as boosting their appearance in the long run.
Don't Be Discouraged
If you're eager to get some cosmetic dental work, it's OK to feel frustrated if your dentist says you need to have some problems taken care of first. Just know that this is in your best interest, and it will ensure that your final results not only look fantastic, but can be trusted to boost your confidence for many years to come.
About the Author
Over the course of his nearly four-decade career, Dr. Allan Mohr has gained a reputation for going above and beyond for his patients. He has frequently been recognized as one of the nation's Top Dentists by the Consumers Research Council of America and been designated as a leading cosmetic dentist by topDentists for more than 10 years. He enjoys working with all kinds of patients and finds great satisfaction in helping people get rid of oral health issues and cosmetic flaws at the same time. To learn more about Dr. Mohr and his services, contact our team today.